Swimming teams make a splash, crush Baldwin Wallace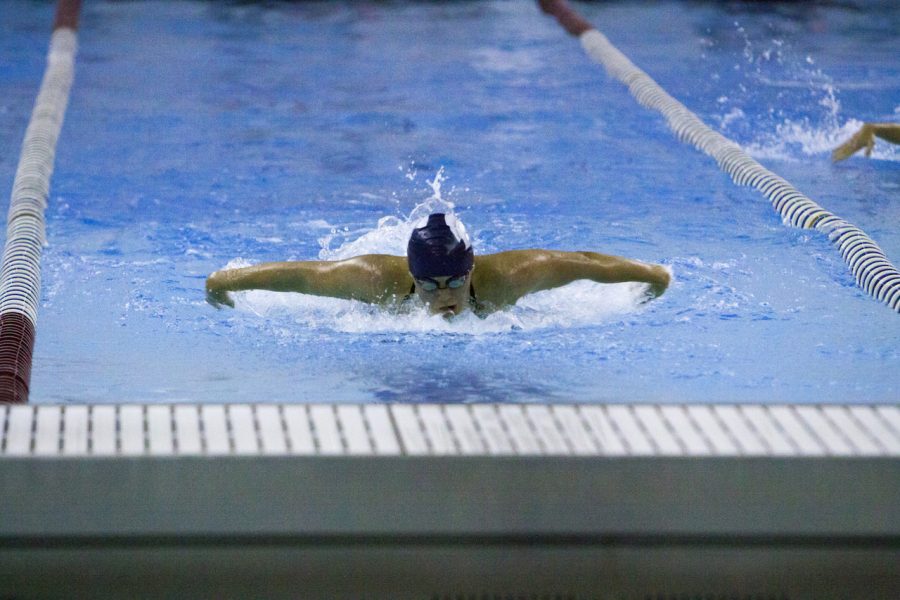 The Spartans swimming and diving team made a statement in their last dual meet of the season. The Case Western Reserve University women's team won by a score of 224.5-74.5 over Baldwin Wallace University, while the men's squad beat Baldwin Wallace by a score of 199-98.
With the victories, both the men's team and the women's team finished the year 8-2 in dual meets. Against Baldwin Wallace, the CWRU women won 15 of the 16 events, while the men team won 12 of 16 events.
Head Coach Doug Milliken realized that the facilities at Baldwin Wallace were not built to accommodate quick swimming performances, yet still saw his athletes perform exceptionally well.
"I was pleased with what I saw," said Milliken. "There facility doesn't have room for extra warm-up or anything between races, so it isn't conducive to fast swimming, yet we performed very well."
As this was the last meet before the conference meet Milliken rested some of his swimmers. He put more pressure on some of his first-year swimmers to perform well in order to win the meet.
"I thought our first-years really stepped up," said Milliken. "I didn't take the whole squad and relied heavily on them to perform, and they did."
First-year student Sienna Picchione won the 1650 yard freestyle in a time of 18:59.73. Fellow first-year swimmers Olivia Picchione, Rhiannon Reese and Victoria Schoenig finished first in the 200 yard freestyle, 50 yard freestyle and 100 yard freestyle, respectively. Yet another first-year swimmer, Julia Ver Voort, won both the 50 yard backstroke in 29.37 and the 100 yard individual medley in a time of 1:03.83. Finally, first-year student Sarah Taekman also took home two titles. She won the 50 yard breaststroke with a time of 33.25 and the 100 yard breaststroke with a time of 1:11.46.
On the men's side, third-year student Drew Hamilton set two pool records at the meet. Hamilton won the 1650 yard freestyle in 16:38.25. He teamed up with third-year student Oliver Hudgins, second-year student Brody Schmidt and fourth-year student Andrew Henning to win the 200 yard freestyle relay in the record-setting time of 1:28.76. First-year student John Libert won both the 50 yard backstroke in 26.43 and the 50 yard butterfly in 24.30, while a classmate, fellow first-year student Tom Schlechter, won the 500 yard freestyle in 4:54.48.
Now done with dual meet action, the teams will travel for the University Athletic Association (UAA) Championships at the University of Chicago from Feb. 8 to Feb. 11. The UAA championships is the biggest meet of the season for CWRU and most of the teams' goals for the season have been based around this meet.
"I'm excited for the [UAAs]," said Milliken, "My goals are for us to go in there, perform to the best of our abilities, and do everything we can to move up from where we were last year."