Punk band SWMRS dive into upcoming Cleveland show
SWMRS haven't been around for long, but they've existed in other forms than just their current beachy-rock mode.
Previously called Emily's Army, singer Cole Becker said the change to SWMRS was mostly to get a new start stylistically. "When we changed the name, it was very much because we wanted Emily's Army to be done," said Becker in a phone interview.
When the band still called itself Emily's Army, it toured through Cleveland, Ohio and played a show at the Grog Shop. Now, the same band members will be performing at Now That's Class! as SWMRS, on March 16.
Currently, SWMRS are on a massive tour in support of the album, and living on the road has been a challenge to the band. "It really wears on you, when you're living in [a van], said Becker. "Some days we'll go nuts, some nights we try to take it easy, otherwise we'd be fucking dead."
This tour follows the early February release of "Drive North," SWMRS' first album. "Drive North" features their catchy party anthem "Figuring It Out" and the stoner rock song "Miley." The California band's garage rock sound has been well-received on all ends.
"I don't think I could've asked for a better response [to "Drive North"]," said Becker.
Tickets to the show can be purchased through BandsInTown.
Concert: SWMRS
Date: March 16
Location: Now That's Class!
Price: $10
Leave a Comment
About the Contributor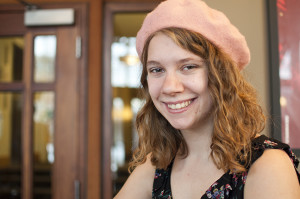 Anne Nickoloff, Director of Print
Anne Nickoloff, the Director of Print for The Observer, is a senior at Case Western. She hopes to one day be a music journalist, and has spent much of...