Terrific tacos take over Tomlinson
Crunch. The hard taco shell crumbled in my mouth quickly followed by the infusion of flavor from various meats, spices and vegetables. It was not the best taco I ever had, but it came pretty close. You know a taco is great when the delicious taste stays with you after you've finished, and I was tasting this one all the way back to the dorms.
Located where Pizza Fusion used to be in the basement of Tomlinson Hall, Local Taco Shop features a variety of taco choices for carnivores and vegetarians alike, including a daily chef's special. The stand uses local and authentic ingredients from small farms within 150 miles of campus.
"Fresh food just tastes better," said Beth Kretschmar, marketing manager at Bon Appétit.
I agree wholeheartedly. I knew my hard taco was fresh because I witnessed the chef deep fry it himself. As a result, the taco didn't disintegrate on the first bite, as hard shells are prone to do, a definite positive in my book.
The idea for a taco stand came partially from the need to refresh food in Tomlinson, and also from Jim Boland, director of operations at Bon Appétit, who "modeled it a little bit off of an authentic taco shop out on the West coast," according to Kretschmar. This explains the Happy Dog-style ordering system, where customers fill out a sheet before stepping up to the counter, then hand it to the chef. The ordering system may also quicken the food service, as I received my taco in about five minutes, even with a shell breaking.
The beef taco I ordered was excellent, with more beef than expected. Added to it was cheese, a spicy red sauce and surprisingly delicious coleslaw. The chef did not add too much coleslaw, so it was not as overpowering as it can be on pulled pork sandwiches, and the taste was different too—not a lot, if any, mayo.
For around the same cost as a Chipotle meal ($9.50), one gets three tacos, hard or soft, a choice of a side and a drink. One can also get individual tacos for $2.90 each. Sure, I'll still go to Chipotle, especially if I'm really hungry, but if I'm craving tacos in the Quad, I'll just head on over to Tomlinson. It's a little quieter for studying, and the to-go boxes are much more convenient than a fast food bag. Plus, it feels good knowing I supported a local farmer.
Restaurant: Local Taco Shop
Location: Tomlinson Hall
Price: Less than $10
Leave a Comment
About the Writer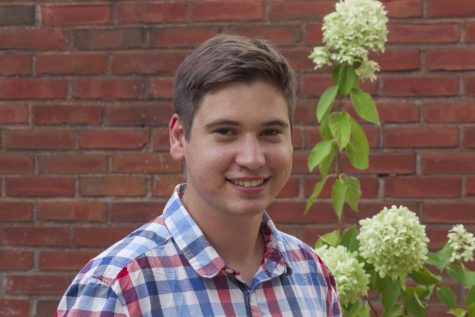 Eddie Kerekes, Executive Editor
Eddie Kerekes is in his fourth year studying chemical engineering while also pursuing a minor in German. He serves as the executive editor. Previous roles...