Taking back Tuesday
Pop punks coming to House of Blues on March 10, 2015
The last time Taking Back Sunday rolled through Cleveland, it was at Marc's Great American Rib Cook Off and Music Festival. And, in line with the band's name, the show was, in fact, on a Sunday.
On May 25, 2014, as the crowd gathered around Jacob's Pavilion at Nautica on the west side of Cleveland, people began leaping over the pit barricades to enter the lightly moving area in front of the stage. Security was soon overwhelmed, and well, soon most audience members who had paid just $6 to get into the fest were dancing with people who coughed up much more money for their tickets.
That's the last time Taking Back Sunday was in Cleveland, but they will be returning on Tuesday, March 10, for a show with letlive. and The Menzingers at the House of Blues.
The show will be different from the festival scene mainly in that TBS can play a longer set, and that things (probably) won't get as crazy.
"It's a great show to come check out," said TBS guitarist John Nolan. "We play songs from our entire catalog of albums. We're playing a few songs that we've never played before, new songs from 'Happiness Is,' and the production that we're having on the show, combined with what we just naturally do on stage, makes for a really exciting show."
"Happiness Is: The Complete Recordings," a re-issue of TBS's latest album "Happiness Is" was released in late February 2015. The difference between the albums lies in more than just the lengthened title. "Happiness Is" includes 11 songs, but the reissued version tops it with 17 songs on its track list.
Nolan believes the reissued album is more diverse than the previous one. "There are definitely a few songs on the album that don't sound like any previous TBS songs," he said.
Though Nolan took a break from TBS to pursue other musical interests in the early 2000's, he has now been back for over five years and is enjoying the tour. "It doesn't feel like as much time has passed as has," he said. "It's been great."
As for the upcoming Cleveland show, it's not going to be a standard TBS performance. With new stage elements including video walls and having the drums on a large riser, the band's latest concerts have involved more than just music.
"This is our third full U.S. tour in the year," said Nolan. "We wanted to do something that keeps it interesting and makes it a little bit different from some of the tours we've done in the past."
Show: Taking Back Sunday, The Menzingers, letlive.
Location: House of Blues Cleveland
Date: March 10, 6 p.m.
Price: $27.50-$35
Check out the next print edition of The Observer, or see the complete review of TBS's next show on The Observer's website on March 20.
Leave a Comment
About the Contributor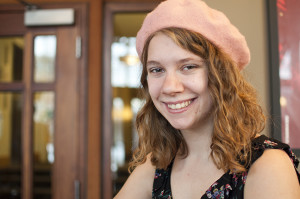 Anne Nickoloff, Director of Print
Anne Nickoloff, the Director of Print for The Observer, is a senior at Case Western. She hopes to one day be a music journalist, and has spent much of...