Tapping alumni connections
In a new series of classes, alumni superstars share their startup savvy with aspiring entrepreneurs.
Sunshine and startups are on the horizon for some Case Western Reserve University students, who will soon be heading to Silicon Valley as part of a new one-credit course that offers a behind-the-scenes look at the workings of startups and technology companies.
VEAL 333: Technology Management Class and Startup Trek, a partnership between the Veale Institute for Entrepreneurship, Case School of Engineering, and Post-Graduate Planning and Experiential Education, aims to help students learn about startup culture (in the classroom and in California) before one day putting it into practice themselves.
This course, designed by Weatherhead School of Management Associate Professor Michael Goldberg, is geared toward helping students find success in the tech sector through classroom discussions and networking. Goldberg, who is also the executive director of the Veale Institute, said he sees a chance to connect students with business and technology opportunities in the Bay Area and to strengthen alumni-student ties. "We have amazing alums. They want to do more with our great students," he said.
The course is like no other offered at CWRU, as it provides a view of startups and tech giants from people who have succeeded in the field.
For example, the lead instructor for VEAL 333 is Ram Fish, '95, M.S. '95, a renowned entrepreneur and change agent in the tech world. Fish earned two computer engineering degrees from the Case School of Engineering. He went on to lead digital health strategy at Samsung, where he helped to build Simband, the world's leading platform for wearable health sensors. He has also played influential roles at Apple, Nokia and Openwave. 
In the seminar sessions, Fish and Goldberg invite students to discuss the highs and lows of startup culture, engage in conversations with industry experts and research current companies and their employees—all before they will meet some of them in-person in California.
Twelve students were selected from across CWRU's academic schools for the debut class. Since then, they've met several times in person and via Zoom to prepare for the upcoming all-expenses-paid trip to Silicon Valley, scheduled for March 23-26. 
Fish said he is thankful for his CWRU education and sees the class as a way to "pay it forward" by sharing his experiences with the new generation. He lives in Menlo Park, Calif., where he runs startup 19Labs, a medical device company seeking to bring state-of-the-art emergency medical care to remote corners of the globe.
"I want to help students get recruited," Fish said. "That's half the battle of the tech industry, so Michael (Goldberg) and I are leveraging our networks to create the best experience for our students." 
That networking opportunity may be the class's most rewarding feature, Fish said. He added that he enjoys the discussions with CWRU students and that he's always wanted to teach, so he's thankful that his alma mater is making that dream a reality.
His main goal as an instructor and mentor, according to Fish, is to inspire students to broaden their horizons and to think outside the box of traditional professional paths.
"When I went to [CWRU], the idea of going off and starting a company anywhere outside of the Midwest was not something kids thought about," he said. "This bubble of ambition was what people's minds were set on. But there's so much more that you can do once you realize there are no limits and other possibilities. I want to open students' minds to these possibilities."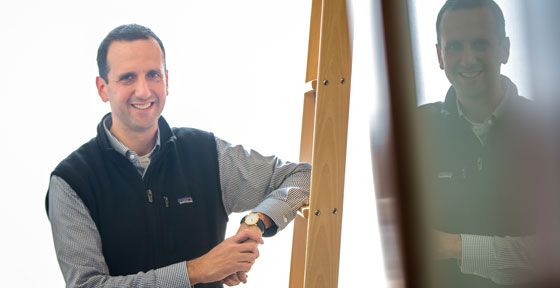 Goldberg said Fish's real-world experience complements faculty knowledge, making the class dynamic especially unique. 
"The tech industry isn't exclusive to Silicon Valley," Goldberg said. "Tech looks different in Cleveland, but it's here, too. So students having a deep look into the industry and getting startup insights from someone who is in the hub of the technology world is an unparalleled experience." 
Students of VEAL 333 couldn't agree more.
Max Pennington, a fourth-year studying chemical engineering, took the class to learn how to lead a tech company. He has his own startup, CLEANR, which works to minimize microplastic pollution through smart filters on washing machines. 
"Mr. Fish not only listens and answers our questions during class through the seminar, but he has been willing to take time out of his day to listen to our personal questions for advice with our own companies," Pennington said. "It is not very often that you get the opportunity to pick the brain of people with as much experience as he has, and this is another great reason to take the class."
Students outside the realm of engineering and business are also finding VEAL 333 to be a valuable learning experience. Margaux Johnstone, a first-year medical anthropology and international studies major, found the class to be influential in shaping her mindset around areas outside of the tech world. 
"The best piece of advice from the class that I've gotten so far is 'Fall in love with the problem, not the solution,'" she said. "If you have tunnel-vision on one solution, you can't adapt to the needs of the consumer and you will ultimately struggle to succeed."
Students interested in being a part of this new academic partnership can look forward to more classes like it being offered in the future. Goldberg hopes to expand the program across all CWRU's academic schools and has already packaged this course into the new Veale Snyder Fellows program, which will launch in the fall. 
This will provide students with a range of domestic and international entrepreneurial education and experiences, he said, from credit-bearing courses to a summer internship program.
Learn more about VEAL 333 and the Veale Snyder Fellows program at case.edu/entrepreneurship/ or email Goldberg at michael.goldberg@case.edu.