50 Years of The Observer at CWRU: Alumni Edition
The Observer defined my time at Case Western, and it shaped my entire career
Anne Nickoloff, Former Director of Print
It all started when I was an overeager high school graduate. I became involved with the club before I even arrived on campus, emailing Sheehan Hannan, the arts and entertainment editor at the time, with a hope to write for the section. My first year at Case Western Reserve University, I wrote about music and campus events, reviewing concerts and dipping my toes into CWRU and Cleveland's arts and entertainment scenes.
That role eventually morphed into a job as a copy editor, then the arts and entertainment editor job, and finally the director of print. (Also, I'll never forget the brief stints of early-morning paper delivery, dropping off bundles of papers on Friday mornings, half-awake.)
The jobs I took on at The Observer helped me earn a couple of reporting awards and allowed me to get internships at Cleveland Scene, Alternative Press Magazine and cleveland.com. That internship at cleveland.com eventually turned into my current job: a full-time life and culture reporter.
Working at The Observer taught me more than any class at CWRU. It taught me the challenges of editing other people's work, and the joy of making words sing. It taught me how to find motivation—mainly by blasting old '90s songs ("Aaron's Party (Come Get It)") at 4:30 in the morning just to get through the final few pages of edits.
And let's be real—it taught me that sometimes you have to write a lot of not-good stuff before you write something good.
The nights I spent editing, writing stories, learning layout and drawing "Squirrels Doing Real People Things" cartoons are some of my favorite memories at CWRU. Those nights proved to me that I wanted to be a writer more than anything else—and it made me confident enough to take a chance at a career in it.
Happy 50th birthday, The Observer!
Anne Nickoloff, Class of 2016
---
How The Observer led to a career at Valve
Jason Mitchell, Former News Editor
Working for a high profile game studio, I am often asked about how my educational background led to my current position. There is the obvious connection from the rigorous engineering curriculum at Case Western Reserve University to a career in software development, but I have also drawn heavily from the experience gained working as a photographer, writer and editor at The Observer.
At The Observer, we were mostly engineering students; we weren't supposed to know about writing and journalism, but we knew we were entering an era where media was our lifeblood and we refused to stay in expected roles. In game development, as individuals and as teams, we are constantly pushing past our job titles and product categories. It is not lost on me that this mindset was partially developed by working for The Observer.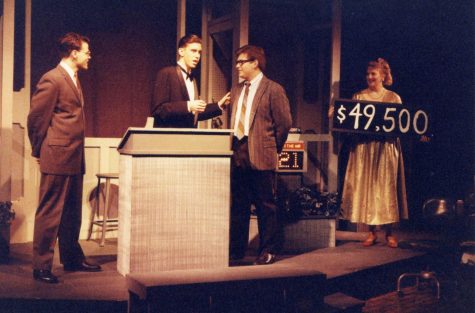 A major advantage of CWRU's relatively small student body is the access that students gain to activities outside of their major. Prior to enrolling at CWRU, I was recruited by the legendary Bill Sudeck to run cross country and track, but decided to put aside the sports I had competed in all my life in order to branch out into new areas. This turned out to be a pivotal choice, as I was able to perform in a play at Eldred Theater, serve as a resident assistant and spend two semesters studying abroad at the University of New South Wales in Sydney, Australia.
But, the most significant extra-curricular activity that I undertook at CWRU was working for The Observer. Whatever it took, the paper needed to get done on time every week. That meant Wednesday evening was crunch time, with the occasional spillover into Thursday, with a runner sent to Presti's for early morning nourishment. We may not have understood it at the time, but those of us on staff were learning how to be collaborative "full stack" media creators before the term entered the lexicon, as we had to move fluidly between interviewing, researching, writing, editing, photography and layout.
In an era where pure STEM is often promoted over the humanities, I would highly encourage students to take advantage of the opportunity they have to expand beyond the boundaries of their majors and build up their creative muscles in other dimensions, be it writing for The Observer, acting in a play, studying abroad or participating in one of the many other opportunities available. You may be surprised at the paths that open up for you as a result.
Jason Mitchell (CSE '94) is a software engineer at Valve, makers of Steam, Half-Life, Dota, Portal, Left 4 Dead and a variety of other game franchises.
---
Lobe's Ear … 45 Years Later
Howard Loberfeld, Former Staff Reporter
Fifty years ago, I was a senior in high school and totally unaware of Case Western Reserve University. Then, their recruitment team swarmed New York—my best friend Bob, my cousin Marcia and I all got the sales pitch, even though we attended separate schools.
For me, CWRU became a backup in case none of the Ivy League schools I applied to accepted me. When none of them did (Princeton put me on the waiting list, and I'm still waiting), it was off to Cleveland and the so-called "Harvard of the Midwest."
On a math major track, classes were not memorable. I learned four different computer languages, mainly because they kept becoming obsolete. The only professor who truly had an impact on me was noted journalist Herb Kamm, whose class led me to my time writing for The Observer. I also got involved in student government, WRUW-FM and co-founded the Izzy Zuberman Film Society; but, the most memorable days had to have been escapades with my new dormmate friends (especially since we were amongst the first to live in coed dorms).
We didn't have much to work with, so we invented adventures—out-loud recitation of 'The Joy of Sex,' the Arby's vs. Beef Corral challenge, late-night treks to Akron's Cloverleaf Lanes for 24-hour bowling (with the wonder of automatic scoring machines) and excursions to Thistledown for two-dollar bets and funnel cakes, just to name a few.
Sure, there were exciting days on campus, like when Jane Fonda came to speak with us about the Vietnam War (though not on a tank, she ironically spoke in front of the "barracks" dining hall). I got to hang out with great future writers like Scott Raab and Scott Eyman, see a lot of classic films and eat at great nearby joints that are still here like Mama Santa's and NightTown. 
Of course, now you also have great food at the Tinkham Veale University Center, and an amazing amount of sculptures and new buildings all over campus, which makes it more attractive to stay right here. Still, sometimes you want to venture out and enjoy your city. In our day, the Cuyahoga River burned, the city went bankrupt and there wasn't much of a downtown Cleveland scene, but boy has that changed.
While our 1970s social committee took visiting speaker Muhammad Ali to a Brown Derby chain steakhouse, you now have gourmet choices lining 4th Street and in Ohio City, plus an actual legalized gambling casino just a rapid transit ride away (if that was around in our day, I may not have graduated).
I know, it's a different dynamic for today's CWRU students. You are knuckling down, thinking outside the box, inventing things and becoming entrepreneurs, and that's great. But, I hope you also remember to also enjoy the hell out of these college years. You will make memories that last a lifetime, you will have new experiences that change you and, yes, you'll probably learn some things, too. I know I did.
---
Notes on the founding of The CWRU Observer
Paul E. Kerson – Founder, Former Editor-in-Chief
The Case Western Reserve University Observer was founded 50 years ago this month in Pierce House by Jon Poole, Doug Smock, Larry Levner, Blake Lange and me. 
Respect for the university's history and for the outstanding education we received a half century ago demands that I write a few words about it so you in the far distant future will understand why we did what we did.
In 2019, it is very hard to understand that the national leadership of our country was  ceded to college students in 1969.
The key academic book to get a handle on all this is Robert S. McNamara's "In  Retrospect: The Tragedy and Lessons of Vietnam," Vintage Books, a division of Random House, Inc., NY 1995. McNamara was the U.S. Secretary of Defense who designed the Vietnam War where 58,220 young American service people and three million Vietnamese were needlessly killed during the years 1963-1975. 
The national plan, at first with CWRU's acceptance, was for Jon Poole, Doug Smock,  Larry Levner, Blake Lange, myself and the rest of the men in our class to be sent to Vietnam to do the killing and dying against our will and our common sense. 
Vietnam was incapable of invading the United States in 1963-1975. I received my draft card, a forced invitation to go to Vietnam with an M-16 rifle and shoot and be shot at for no good reason, from a pleasant-faced older woman clerk in Adelbert Main on my 18th birthday, in February 1969. I will never forget it. She had no idea of the meaning of her seemingly clerical task. She was registering me to kill and die before I even had the chance to commence adult life. I don't think she gave this matter even a second thought. She wore a nice smile, as if she was giving out a dry cleaning ticket. 
Twenty long years after the fact, in 1995, Robert McNamara admitted the whole thing had been a big mistake: "We were wrong, terribly wrong. We owe it to future generations to explain why. " It took Robert McNamara 20 years to figure this out. I was able to figure it out in between the time I got my draft card from CWRU at Adelbert Main and when I sat with Jon, Doug, Larry and Blake to found The CWRU Observer in Pierce House three months later.
Although none of us were yet full-fledged adults, we knew we had to use the First Amendment freedom the university gave us to correct the federal government and stop the foolish, misguided war. And so we did. Our elders were aghast. Most were World War II veterans, and their collective thinking was this: When Washington calls, it is your duty to follow. To the eternal credit of the CWRU faculty, most too young to have served in World War II, we were taught to think for ourselves, and not blindly follow anyone. 
My late father, Dr. Jerome Kerson, a World War II veteran, had a high rank. He was a Captain in the Medical Corps of the U.S. Army Air Corps, before the Air Force existed, from 1942 to 1948. He had a very different view than that of his fellow veterans. He had the same job in World War II as Hawkeye had in M*A*S*H, the hit television show and movie. It is not an exaggeration to say that The CWRU Observer was brought to you, at least in part, by Hawkeye's son.
When I left my parents' house in Flushing, Queens County, New York for CWRU in September 1968, my father was very afraid that I would be drafted and sent to Vietnam. He came into my room and he gave me his green U.S. Army Air Corps jacket with a large brown fur collar with the words "U.S. Army Air Corps" in red, white and blue emblazoned on the top of the sleeve. He had worn this jacket when he operated on our wounded World War II soldiers 20 years earlier. I asked him why he was giving me this jacket. He would not say why. During the time I was writing and editing anti-war articles for The CWRU Observer, I wore this jacket. I wore it to remind everyone that it is we, the citizens, who will decide when and where we go to war, not a permanent military class operating out of Washington, D.C. 
I grew up, over the past 50 years, to use the leadership skills I learned at CWRU to have a hand in governing the New York State judiciary. CWRU sent me to the Columbia University Law School. I served nearly two years as a New York State Assistant Attorney General, and then founded a law firm, Leavitt, Kerson & Sehati, still going strong. 
I have been on the Board of Managers of the Queens County Bar Association (QCBA) off and on for more than 35 years, serving as president from 2015-2016. This meant I had a hand in disciplining and selecting judges. For much of the last several decades, I have been the editor of the Queens Bar Bulletin, the monthly publication of the QCBA. Surprise—it looks a lot like The CWRU Observer. This is a tribute to Prof. Charles Rehor and Prof. Jim Sheeler's predecessor, who taught us how to write convincingly. 
I again want to thank CWRU for the education I received in citizenship, independent thinking and leadership so long ago. It was second to none. 
---
Photo Editor Volume One
John Fleshin, Former Photo Editor
In the Fall of 1969, I walked into the Office on the Third Floor of Thwing and offered my services as a photographer. The paper was in a bit of disarray in the darkroom and the quality of images wasn't ideal, I was experienced in photography, so it began.
Among my early assignments was to photograph Ohio Governor James Rhodes speaking locally, who announced he would not wait for a request by school administration to send in the National Guard if he thought state property was in danger—words that stuck with me and certainly played out during the massacre down the road at Kent in May, 1970.
Tension was in the air all year; the Student Mobilization Committee to end the war was heavily invested in Cleveland. Several Weather Underground Organization figures showed up to demonstrate at a neighboring suburb, along with some young Cleveland Heights students at the Davis Cup Matches held at Roxboro Junior High, prompting an overreaction from the Cleveland Heights detectives, who ran around wearing green sports coats, photographing faces and finally physically assaulting school students standing and shouting on public property.
 Also arrested was Bernardine Dohrn, who later that year declared war against the United States, committed various violent acts and bombings and skipped bail to remain underground many long years after the war—Dohrn's photo was also published in the Observer. Also, a strong Editorial condemned police actions. I always wondered where they found so many bright green sports coats, hardly subtle.  Police overreaction often proved to be the rule at the time, rather than the exception.
In spring, following May 4, the Cleveland Mounted Police lined up on Euclid Avenue and removed their identifying badges. A wave from  District Police Chief Gerraty set them charging into the student crowd gathered in front of Thwing, clubbing students, including the editor of the Observer, a campus policeman, then smashing Thwing's windows. Although they claimed their badges could be used as weapons, no ids violated state law. Photographs were sent to Washington D.C. that week with Congressman Stokes—it was the third charge by mounted policemen that year that I had seen. My staff and I made more than 1,000 images that week alone.
There was much to cover; the Plain Dealer requested and offered to buy a subscription to the Observer, and I made several thousands of images, from campus matters, to regional and national issues. We published issues with up to 24 pages. Some of the matters included sports events, concerts, speakers and antiwar conventions. We went to extreme efforts to record the history of the moment, with black and white photography mostly, but also with difficulty to achieve color images from the march on Washington to the last Case-Reserve Football game (Reserve won!).
Volume One's staff members were the witness scribes for the campus, the area and the times.  
Great Staff, Volume One—though, about ten years later, I saw some of the photos of Mounted Police Charge on page one of that Observer—the headline asked "Can you Believe This Happened Here?"
---
Lifelong friends and classies
Denise Fischer Rynes, Former Editor
As editor of The Observer during the 1986-87 school year, I was the second-to-last leader to beg, bribe, berate and battle the Compugraphics typesetter to make it work on Wednesday nights, when we put the paper to bed. My wise successor, Eric Baud, transitioned the paper to Macintosh's desktop publishing the next year, but that cantankerous old machine helped create a wacky, memorable newsroom atmosphere that I still miss.
Working at the school paper was the best job I have ever held, no contest. The work was challenging, but fun, and we often felt like we made a difference in the quality of campus life. We covered important events, took some deep dives into cheating and campus security, and ultimately gave the students a voice. Everyone was welcome to join our staff, to write a letter to the editor and to buy an ad in the "Classies," which often told the best stories if you could piece them together right.
Despite the demands of the job, my role as editor was easier than expected. The hours were long, but my staff was so good that I could trust them to do their jobs well with little to no assistance. In addition to being talented and knowledgeable, they were committed to printing the best issue possible every week. It didn't hurt that they were also funny, entertaining people who became dear friends over time.
I received a bound book of my printed issues when my tenure ended, and that book is one of my prized possessions. I look at it often, not to reread articles I wrote, but to relive the giddy, silly, laugh-until-you-cry experiences that some headlines, stories and classies evoke. Many of the funniest moments of my life took place during those long, hectic hours on Wednesday nights because of my Observer friends. 
Decades later, the people I met and worked with in the basement of Thwing Center are still close friends. They were the first people I looked for on Facebook, if I wasn't in touch with them already. They are the college friends whose birthdays I remember without that Facebook reminder, and the people I make a real effort to talk to or visit in person whenever possible.
In short, my time at The Observer changed me and the course of my life, and for that, I will always be grateful.
---
Lasting Impact: How the Observer impacted a Pre-Med
Phil Smith, Former Editor-in-Chief
I entered my first year at Case Western Reserve University in the fall of 1975 as a pre-med student. I joined The Observer as a sports writer, which turned into sports editor in the spring. I served as editor-in-chief as a sophomore (1976–77 academic year). This was the age of typewriters, typesetting and offset (pre-digital) printing. We published Tuesday and Friday issues.
The commitment of our Observer team was amazing. We often worked past midnight Thursday for our Friday edition. Then, two of us would drive to the printing house in Medina, Ohio and be up all night as the plates were set and the paper printed. Then, we would return to campus and distribute the issues at numerous spots. We could not envision how computers, word processors and digital printing might transform newspaper publishing two decades later.
When I entered medical school in 1979, I never imagined the impact of my Observer experiences.
As a young family physician, I was an early adopter of electronic medical records in the early 1990s. This led me to my career as a chief medical information officer and health IT consultant, automating over 60 hospitals (well over one percent of all hospitals in America) and numerous physician's offices. Persuasive writing has become a valuable tool in leading change and in mentoring a new generation of  healthcare informaticians.
Dozens of white papers have led to millions of investment dollars in innovations. Technical requirement documents have guided software development. I've authored two books in health IT on computerized provider order entry and on medication reconciliation. I currently serve as contributor and writer for a national task force on healthcare cybersecurity with the U.S. Department of Health and Human Services.  This past summer I co-authored a report for a major medication reconciliation hackathon at the University of Connecticut.
Today, I see copywriting as my "value-add" as a health IT consultant. It all began with my tenure on The Observer and four writing courses at CWRU. Moreover, my oldest daughter pursued journalism in college and spent four years as a newspaper copy editor before entering law school.
It's interesting how much an extracurricular activity can shape your life for many years. It's often in different ways than you might anticipate during your undergraduate years.
---
Reflections on my time at The Observer (in the mid-to-late '90s)
Santina Protopapa, Former Features Editor
Working at The Observer was definitely one of the highlights of my time at Case Western Reserve University. I initially joined The Observer as an extension of my journalism work in high school.  I was eager to continue writing and reporting. I am grateful that my time as a member of The Observer led to a leadership position to oversee the features section. This leadership role provided me with the valuable opportunity to develop and hone skills that are still an important part of my daily work.
Late nights at Thwing Center were always busy and fun with Christian Steiner, Angela Byun and the crew. I'll never forget the time we finally got to meet the mysterious columnist "Mischievo," Steve Dalton. 
As the features editor, I enjoyed meeting new people on campus interested in music and culture who would like to write for The Observer. Many of these people went on to careers related to journalism and music, such as Kabir Bhatia, who works for WKSU.
Some of my highlights as a writer for The Observer include writing the article that introduced the new Kelvin Smith Library and getting to tour the library before it opened, covering the Rusted Root concert on campus and interviewing one of the members of the band, and introducing the CWRU community to the new Bop Stop jazz club downtown.
Another memorable moment was traveling with The Observer crew to San Francisco for a collegiate journalism conference and learning from colleagues from different universities across the country. We returned to campus energized with new story ideas. We also enjoyed exploring San Francisco. It was my very first time on the west coast.
My career in the arts has included extensive grant writing and proposal writing. The skills I honed at The Observer have enabled me to successfully raise over a million dollars to bring the arts to young people. Writing with clarity on a tight deadline for a grant has always been a breeze, thanks to my time at The Observer. Lastly, the management skills I developed during this time supported my work running the non-profit I started and led for 15 years, and are now a part of my current leadership overseeing educational programs at Lincoln Center for the Performing Arts in New York City.
---
Writing on a deadline
Mary Jacobs, Former News Editor
Until exactly 37 minutes ago, I forgot about the deadline for essays for this special anniversary issue. Thanks to my years of working on The Observer, I was able to deliver. 
The Observer was the setting for many of my most cherished college memories. While I've lost touch with many college friends, I'm still in contact with several former Observer staffers. But the gift that The Observer gave that's still giving is speed. The paper taught me how to write a pyramid-style, who-what-when-where-why newspaper article—and fast.
As news editor, I'd start each semester full of energy and passion and overflowing with ideas for covering all the important happenings on campus. I'd come up with "enterprise" stories and work hard to discover interesting angles and finesse the writing to make them sing. I had help from a cadre of fellow students who would handle assignments and write other stories for the section.
However, as each semester wound down, and exams loomed, my volunteer staffers disappeared. They stopped taking assignments, and of course, my school workload piled up too. My imperative at The Observer devolved from "covering the most important news with compelling stories" to "filling the section with copy, any copy." By the last issue of each semester, I'd have to write the entire section, and I'd have to do it fast. I'd make a few phone calls, type furiously, rip the paper out of the typewriter, hand it to the typesetter, and move to the next story, one after another. And that's how I learned to turn a news story from scratch in a few hours.
That training has served me well to this day. In my first job, as a TV news producer for WJW-TV, I could write a short script from wire copy in a matter of minutes. When I worked for the Dallas Morning News in the early 2000s, colleagues were amazed at my prolific bylines. Now that I'm freelancing, and doing PR and marketing writing—well, I'm not even going to tell you how fast I can turn out a press release. My clients might want to pay me less.
I filed my last story for The Observer more than 35 years ago. But the lessons learned from late nights in the newspaper office still remain with me today.
---
The power of storytelling
Kaitlyn Kooser, Former Staff Reporter
While writing for The Observer, I fortified my belief in the power of storytelling. One of my first contributions as a staff reporter was an article about Case Western Reserve University's dining hall compost plans. I wouldn't have said that it contained the kind of zest that colored the stories I was reading in major publications. But reading my very own inky headline on a fresh copy of The Observer revealed to me that my desire to connect with others, by way of understanding shared histories, was something I could wield like a unifying tool, forever. I wonder if someone who read my composting story nine years ago impacted the development of something like the Green New Deal. While the odds of this are slim, I do imagine that other storytellers like me believe so wholeheartedly in the power of using one's voice that these chain reactions don't seem so absurd.
Nearly twenty years have passed since I filled up my first journal with the same scrawl I still sport today. Fifteen years have passed since I wrote, directed and performed in my own short film (shout out to a childhood friend with a quality hand-held camcorder). Ten years have passed since I worked on my high school's literary magazine. Nine years have passed since I walked into The Observer office and met the kind of people who would change my understanding of what it means to be someone with a story to tell.
I will always be grateful for my time as one of The Observer's staff reporters, a time characterized by deadlines, late nights and optimism. I spent a lot of this time getting to know people in the community who would alter my worldview. The positive consequences of this are still unfolding in my everyday life. I spent even more of this time committing myself to the kind of coursework that ensured I would never put my pen (tape recorder, waterproof notebook, laptop and coffee) down. I'm no journalist now, but I am a writer of sketch comedy, a blogger and an unofficial reporter. I like to think that I start and engage in conversations that lead to positive action. I ask questions. I listen. The spark that ignited my desire to talk to those around me, to learn, to write, and to record burned so bright during my years at CWRU. The Observer was a special part of that. 
---
My Deer Office
Eileen Sabrina Herman, Former Editor-in-Chief
I joined The Observer my second-year at Case Western Reserve University, and had so many amazing experiences. I went from sports layout editor to editor-in-chief, so I got to experience every part of the newspaper (I even wrote articles once in a while!). While I could wax-poetic about the things we did that were relevant to a newspaper, I'd rather reminisce about one night in particular that stood out to me. 
On my last night before the new editor-in-chief took over before I graduated, we had an unexpected visitor in Thwing A09. I arrived at 4 p.m. to whispers and confusion, as, somehow, a deer had jumped into the window—well, while not exactly inside our office, the deer was stuck, pacing, in front of our windows. I remember looking at the deer and thinking, "Yep. That's a deer alright."
I asked the staff what had been done so far, and had been told that our Sports Editor Peter Cooke had been told by the Jolly Scholar staff that if he brought them the deer, dead or alive, they would give him free drinks until he graduated. Obviously, this was not in the cards, and so I contacted the admin of Thwing, Casey Medley. Her first reaction was that surely I was joking. "No," I said. "There really is a deer in the office! We can't work with her staring at us."
Who was in charge of this scenario? The game warden? School security? We had to wait and see, all the while Bambi stared at us through the glass. 
I needed a drink—could Peter be persuaded to share?
Soon a crowd of  students and administrators gathered inside our office. It was a deer! Look at that!  
I was concerned that the deer might startle and jump into the office, so we all had to work far away from the windows; it was quite inconvenient. Eventually, a bunch of men in uniforms came, evacuated the office, tranquilized the deer and took her via a backhoe inside a crate, out of the window well. It was the most excitement our office had in days.
After Bambi was removed, we tried to fit a deer theme into the fun page, but alas it was not to be. But what a way to end my time at The Observer.
---
Memories of the technical side
 Judy Scher, Former Layout Editor and Production Manager
I started out, like many of us, by writing headlines for the Reserve Tribune in 1968 when Doug Smock was the Editor and reporter Jim Naples' "Saga Soon Sells Suds!" became the Trib's most famous headline after the student union started serving 3.2 beer. I was more interested in production than writing and eventually became the layout editor.  Layout was extremely tedious compared to today. The print area of each article involved counting words, font size, and desired width. We used slide rules! Ads and photo dimensions were given to us and we designed each page marking areas with pencil and pasting down headlines with glue which would fumigate the entire office. The mocked up content, ads and photos were then taken to a local printer.
The next year we became the CWRU Observer. Case students joined the staff, Larry Levner was Editor-In-Chief and I eventually became co-production manager with Clay Haubert from Case.  We were constantly last-minute, driving the content to Medina, OH at 2 AM for publication twice/week. Our publishers used offset printing, the most up-to-date technology of news printing.
I remember going to the November, 1969 march on Washington, DC to protest the Vietnam war with some of the Observer staff. It was snowing the entire way but we got there safely in a VW bug owned and driven by our photo editor. We had to send the rolls of film to a lab to be processed in time for the next edition of the Observer and found ourselves running through around 500,000 protestors to get to the post office.  It was the first time the Observer printed color photos and I have to take some credit for the photo spread between pgs. 6-7 because our photographer put me up on his shoulders to snap the photo of the huge crowd. (Of course he first adjusted the f-stop, etc. Anyone remember f-stops?!). Color photos had to be separated into black, magenta, yellow and cyan; each separation made into halftone, then overlaid for newsprint.
We were a fun and hard working group of folks in midst of national political upheaval. We watched police batter protesters from the window of the Observer office, we listened to the horrific news of Kent State from that same office, yet somehow we all kept it together and produced those stories like the pros.
---
Back from the shadows (again)
Doug Elliott, Former Staff Reporter
The more things change, the more they stay the same. 
Autumn dawn, mid-continental time, and I am wrestling with Jacob's angel to hit the deadline for The Observer. Now is nearly fifty years after my first byline.  A hundred miles south of Hannibal, I try, unsuccessfully, to channel Mark Twain's ghost, tease out a bit of wit, something clever or wise that will impress my faceless audience. No such luck. I am what I was, words cobbled on newsprint, anonymously brave, fearful of rejection by an equally anonymous reader. And so, it goes.
Fifty years ago, we read "1984". Now we live it. I am struggling to fill the missing space of this article and wonder about the fifty light year radius of neural radiation between then and now—do our thoughts ever collide with alien civilizations? How would they even know? Or is it us who are the unwitting mouthpieces of alien overlords, alien photons energizing these very words I think I am writing myself?  Hmmm, save that for the podcast.
Fifty years ago, I was writing for the arts and entertainment section. We were Boomer proud. We were passing through the Age of Aquarius on the way to the Age of Disco. We were winning the peace and forgetting the war, forcing impeachment and getting back to nature with the Whole Earth Catalog. We were the mainframe computer on the way to the desktop. We were the sexual revolution before AIDS. We embraced satire as the moral disinfectant of "real truth." When nothing is sacred, we are all elevated. I miss the cleansing humor of the old anarchist days, but the current arc of social justice seems to require this new puritanism. And so, it went. 
I loved the brave experiment of college, the times we hitch hiked cross country, from campus to campus, from the U.S. to Mexico. When we graduated, we kept moving, back into the suburbs, back to the malls, back to the materialism that defines the apocalypse of this modern era. Or so my children text me.
I see through my window the rising orange orb reflecting off the Father of Waters. The waters travel unvexed to the Gulf, unvexed at least until the next hurricane. Cat claws tearing at the office door—time for breakfast. The aliens have found me. At last.
---
Preparing for the real world
Laura Ritzler, Former Editor-in-Chief
My experience at The Observer is synonymous with my entire Case Western Reserve University experience. When I came to CWRU, I wasn't bothered by the fact that there was no journalism department. At the time, I was just an aspiring chemical engineering major who didn't want to lose my connection to writing. 
While on a first-year orientation activities tour, I happened to overhear the then-news editor lamenting that he didn't have an assistant editor who could pull together some of the more tedious parts of his job. 
I pounced. 
Taking on that three-hour a week commitment changed the entire course of my future at CWRU and beyond.
In my third year, I became editor-in-chief, and then became one of those rare (at the time) two-year editors. 
The Observer changed the trajectory of my life and prepared me for the real world, unlike any of my coursework. I learned to work with a team of wildly different personalities and produce high quality work (most of the time). I learned to lead a group of individuals through short- and long-term goals, and take chances along the way. (Although if someone had warned me the transition from Adobe Pagemaker to Adobe InDesign would make us all want to quit, I might have thought twice before moving forward.)
We took it seriously, because the stakes were real: real advertisers, paid staff and financial autonomy from the university. But, we also had fun doing it. 
While I never became an engineer, every single role I've been in (from middle school science teacher in South Los Angeles to instructional designer in Phoenix, and all the stops in between) has required me to tap into everything I learned at The Observer. 
At the end of the day, I've turned my passion for translating large, complicated ideas into more digestible content into a career—a passion that I can trace all the way back to the Thwing basement.
---
From librarian to magazine editor
Cory Hershberger, Former Managing Editor
My time at The Observer will always be near and dear to my heart. It was the first campus organization I joined, and it was where I spent the majority of my extracurricular time as a Case Western Reserve University student. (The vast majority.) My very first article was an album review—Mat Kearney's "Nothing Left to Lose," which came out in April 2006, and I suppose dates me considerably—and I remember Megan Vo, the Focus (A&E) Editor at the time, reading it and telling me afterward that she immediately decided to groom me to take her place, as she was graduating in the spring.
I say this not to brag, but to point out how that one single decision impacted the course of both my college career and my professional one, as well. Because Megan invested her time into me, I became the Focus Editor for the 2007-2008 academic year. I held the position again as a junior, and then I became the Managing Editor for my final year at CWRU. (I managed those Wednesday production nights that stretched into the wee hours of the morning every week, which was exhilarating and exhausting and hilarious and frustrating all at once.)
After graduating from CWRU, I went on to library school at the University of Kentucky, and my resume was pulled out of a stack for a graduate student position in the oral history center on campus because of my editing experience. Post-grad school, I started applying for editing jobs alongside my library jobs, initially just as a backup, but I actually wound up working as a magazine editor for "Hobby Farms" for almost 5 years.
Now, I've made a career pivot into academic advising for the University of Kentucky's Transfer Center, but do you know what piqued my boss's interest? My editing experience; In addition to my advising load, I now write and edit our marketing copy in addition to managing our website, and the genesis of all those skills can be chalked up to The Observer and that initial album review.
I made some of my best college friends through The Observer, and I owe a considerable amount of my professional success to it. It was a true honor to work there for four years—here's to 50 more!
---
Writing my way out
Viral Mistry, Former Staff Columnist
When I arrived at Case Western Reserve University in August of 2015, I knew two things. One, I finally had the freedom to be whoever I wanted to be. Two, I had absolutely no idea who I wanted to be.
While I contemplated joining The Observer early on, I didn't out of fear that my voice wasn't worthy. When I started to get involved with campus activism, my opinion of the school newspaper only worsened. A series of incidents during my second and third years built an atmosphere of distrust toward the newspaper, one that saw them as neither the neutral observers they claimed to be, or the empathetic allies we wanted them to be. Instead, the word was that The Observer was, at best, going to ignore you, and, at worst, undermine you to get clicks. 
Why would I note this right now, in a moment of nostalgia? Because it's important to recognize where our flaws are if we want to improve. You are not simply who you are on your worst day, but also the day after that, and the day after that. You are how you respond to your weaknesses. And I'm proud to say that through my fourth year, I saw The Observer vastly improve under the leadership of a now close friend of mine. It improved enough that I went from a skeptic to a contributor.
I joined for many reasons, including for the staff and their culture, certainly. But it was also because, after years on this campus, I had so much to say, and I didn't know how to express it. It was that same close friend who encouraged me to share what I had to say, to put to paper my experiences and the lessons I had learned. 
And so I got to close my final year of college by writing my way out of this school. I picked up my metaphorical pen and, week after week, spoke my truth to this campus, informed by my experiences, supported by an amazing editorial staff. 
In my time at CWRU, there were many dark nights. But I knew I was never truly lost, because I had the light of others' stars to guide me. I hope my time at The Observer can be remembered as a light in someone else's sky. 
Thank you, The Observer, for helping me figure out who I am.
---
Poems
Michael Morris, Class of 1973
1973
Anti war campus protests
Acid rock and music fests
Coed dorms became the norm
Relationships became transformed.
The British group Genesis
Had on campus their US debut
A Case professor's connection who knew?
Paper and handwritten tests
No IT and lots of stress.
Tie dye T shirts and blue jean uniforms
Trudging through snow
and lots of rain storms.
Streaking nude
Going to Corky and Lenny's
For better food.
Dropping a water balloon
From Clarke Tower
Over drinking
Over smoking
Over sleeping
Missing class
By more than an hour.
Dorm sign in
Dorm sign out
Being announced as a guest
What is all this about.
1973 reflections
Select impressions.
Look back
Look forward
Age of Aquarius
Age of hilarious.
How did the generation of we
Become the generation of me?
Isn't it ironic
Isn't it ironic
Spinning records
Would become so iconic.
Never thought I could get
Beyond laconic
Never thought love could be platonic
Never thought my drive
Was demonic.
Never could solo or be harmonic.
No way to change
The steps of the dance
To slow and slower
Got to
Stop moving the bar
Low and lower.
Isn't it titanic
Isn't it emphatic
Isn't it ironic
No need to panic.
Clouds store your taste
Right with a picture
Of your face
Isn't it ironic?
Surround sound
Replaced pure symphonic.
I lip sync to Harry Connick.
Virtual currency
Replaced credit cards suddenly.
Cash in a wallet
Became a redundancy.
Land of the free
Was replaced by bigotry.
Politics of identity
Replaced empathy with apathy.
Time to wear your heart
On your sleeve
What's left for your children
To believe.
The earth isn't round
Surfers never drown.
Isn't it ironic.
We all were trucking
To get to be better than
Middle class
We learned the hard way
There was no free pass.
Isn't it ironic
We were cool
Smoking weed.
Now the growth industry
Is making legal seed.
So break my heart
Where do I start
With Amazon everything
Becoming the new iconic.
And a veggie shake
To replace a burger and fries
To cleanse my skin
And purify.
To relieve stress
And reduce deep moods
So catatonic.
To lead with a smile
So ironic.
To be the genius
To create the next iconic.
Memories age
And age creates new memories
Isn't it ironic?