"The Bachelor" premiere starts a season of drama, love
"The Bachelor" is back for its 20th season of more or less scripted cat-fights, emotional breakdowns and romance.
If you have watched the show before, you know the drill. Things usually follow the same format (as with most reality TV, but we still watch it anyway). This year "Bachelor Nation" was gifted with bachelor Ben Higgins: small-town, all American tall, dark and handsome Ben.
He grew up in rural Indiana, played football and basketball, had his first kiss at the movies. The opening of the episode explores Ben's charming roots, then we get a touching conversation with Ben and his parents who are happily in love and have been for three decades. They (ABC producers of course) set us viewers up to fall even more in love with humble, genuine Ben with him admitting he's afraid he's unlovable. Women around the world said "Aww" in unison. His mom said the most real thing of the night when she hugged Ben and said "She'll be great no matter where you find her."
Even if it's on a reality TV show and your mom gets to watch you make out with multiple women.
The next part of "The Bachelor" is when all the women get out of the limo, one by one for us to start judging. The point of night one is to be remembered among the 28 women there, and some women did not hold back. There was a lady in a rose hat (that I prayed would fall off), a lady with A MINIATURE HORSE, a girl who hiked a football between her legs, a girl who claimed gluten was Satan and had Ben literally break loaves of bread with her, and twins. Yes. Twins got out of the limo at the same time and claimed they were going to date Ben at the same time. It's a guy's dream, but c'mon ABC. Are you even pretending this show is about love anymore?
However, many of the girls are genuine, and Ben is really looking for love I think. He didn't even kiss any girls (willingly) and tried to give a chance to everyone. Above all, the episode was night full of girls cruelly judging each other, some lady friendships being formed, lots of glasses of wine and all the drama that comes along with one man dating 28 girls at the same time and having to pick his favorites.
"The Bachelor" is television we live for.
About the Writer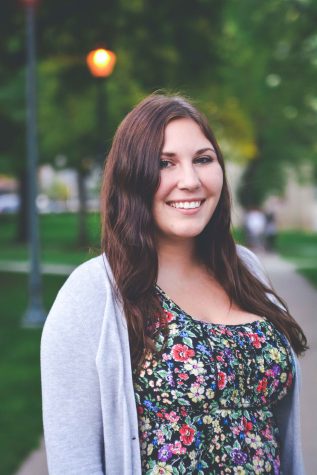 Alex Clarke, Arts & Entertainment Editor
Alex Clarke is a senior with majors in english and psychology and a minor in marketing. She also writes for Trill Mag, wrote for McClatchy newspapers for...