The Cavaliers and Cleveland pride
Cleveland sports are often referred to as a joke, mainly because of the lack of national championships our three major league teams have. The Cleveland Browns are constantly changing coaches and quarterbacks and watching the Cleveland Indians can be saddening at times. Take the game against the Chicago Cubs on Wednesday night where they lost 17-0. But this year, our NBA team made it to the finals and won two games without two of its superstars, Kevin Love and Kyrie Irving. Even though they ended up losing, their fight through the finals made me proud that a Cleveland team was showing the nation that this city might not be cursed after all. More importantly, it also showed the nation that the city could come together and is not a dead and boring place to be.
I'll admit that basketball is not my favorite sport and that I do not follow the Cleveland Cavaliers closely. I follow sports, but do not take them too seriously. However, it is pretty awesome that the Cavs made it all the way to the finals and it caught my attention. Although the Browns might never win a championship or even come close to the Super Bowl, the Cavs have made it through to the NBA finals and have had me watching almost every game in suspense. Even for non-sports fans, the Cavs' championship ambitions should be inspiring to people from Cleveland and those who call it home during the school year. Even though their losses were disappointing for many, they still made it farther than any other team in Cleveland has gone in their seasons.
As a Cleveland native, I have grown up constantly answering the questions, "What's there to do in Cleveland?" and, "Isn't that city dead?" and it can get frustrating. The city might not be as big or metropolitan as New York City or Chicago, but it still has a lot to offer that the national media often doesn't recognize such as great museums, food and neighborhoods. As students at Case Western Reserve University, we often try to explain this but can get bogged down with the city ourselves, especially during the rough winters. Yet, there is something about the Cavs and their perseverance through this finals series that is inspiring for me and is something for all Clevelanders, or anyone who calls it home, to be proud of.
Downtown was alive every game night and I can't imagine how anyone can say there isn't anything to do in Cleveland or be proud of after experiencing this. This kind of unity and togetherness is inspiring for the city and has shown how much this city has to offer.  Though I might not always be happy with Cleveland, the past few weeks have renewed my love for this city and hopefully are inspiring to everyone, even if Cleveland is home for only a few months during the school year. I hope to see this spirit continue in other events in the city throughout the year and renewed next season when the Cavs are at full strength again. Even though they lost, it was a great way to get involved and be proud of something with everyone else in the city.
About the Contributor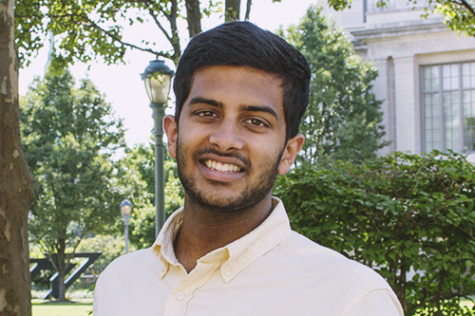 Harsha Chandupatla, Multimedia Editor
Harsha Chandupatla is a Senior Mechanical Engineering student currently serving as The Observer's Multimedia Editor. He first started working as a photographer...