The Cleveland Orchestra offers world-class entertainment on shoestring budget
Case Western Reserve University does not have a reputation for being an inexpensive college campus; however, there are student-specific programs and cost saving opportunities available if you know where to look. For world-class entertainment on a shoestring, you need not look further than Severance Hall.
The Cleveland Orchestra attracts one of the youngest orchestra audiences in the country, facilitated in part by their highly successful Student Advantage Program, which offers deeply discounted tickets to Case Western Reserve and other university students. The Cleveland Orchestra observed a 65 percent increase in student attendance during the past fiscal year and has garnered a national reputation for its increasingly young customer base.
"We've identified young audiences as an organizational priority for us," said Jim Sector, assistant director of sales and marketing for The Cleveland Orchestra. "We've aligned funders to help subsidize these tickets in order to make [The] Cleveland Orchestra have the youngest audience of any other orchestra in the country."
The Student Advantage Program is free to join, and offers $10 tickets to university students upon their enrollment. The tickets are subject to availability, which the orchestra communicates by email the week of the concert. When students see an available show they wish to see, they can go to the box office to pick up their tickets. The program also provides members with access to free masterclasses and rehearsals.
"A lot of orchestras will restrict their more popular shows," Sector said. "Sometimes we have problems with inventory, but if we have the tickets we will make them available."
To sign-up for the program, students may visit The Cleveland Orchestra's Box Office in Severance Hall during business hours or visit http://www.clevelandorchestra.com/tickets/student-tickets.aspx.
According to Sector, students who expect to frequently attend orchestra shows may purchase a Frequent Fan Card, which enables them to attend certain concerts free of charge. The $50 card entitles the student to tickets for any concert open to Student Advantage Program members.
The Cleveland Orchestra offers an annual sale in which the cost of the card is reduced 50 percent. This year the sale will occur from Aug. 26 to Sept. 6. "All you have to do is come to three concerts to get your money back," Sector said.
While Sector expects the reduced-price tickets will continue to spark student attendance at orchestra shows, he explained it is not the only way the orchestra works to engage students. "We have a group of student ambassadors—a volunteer arm—that helps get the word out to the students, brings groups to concerts and acts as on-campus representatives of The Cleveland Orchestra," he said.
A four to five hour time commitment is need in order be a student ambassador; however, students are compensated for their participation with free tickets and merchandise.
About the Writer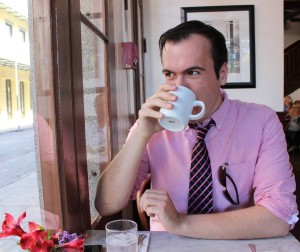 Tyler Hoffman, Executive Editor & Publisher
.
Fourth-year medical anthropology student Tyler Hoffman has served as Executive Editor and Publisher of The Observer since April 2012. As Executive...