The CWRU on the field
Sports overview for those new to campus
Opportunities abound for Case Western Reserve University students to participate in sports, a fact that many incoming students may not realize. There are 17 varsity teams that compete in the University Athletic Association (UAA), 17 club sports and countless intramural events throughout the year.
Spartan sports date back to 1971, four years after the federation of Western Reserve University (WRU) and the Case Institute of Technology. Prior to that year, each school competed separately and maintained a feisty rivalry. Case Tech competed as the Rough Riders and WRU played as the Red Cats. In the ensuing 46 years the CWRU Spartans emerged as a source of campus pride. Individual athletes have won a combined 18 Division III national championships and the school has produced at least one All-American for the past 19 years. The most recent national championship came from tennis players CJ Krimbill and Eric Klawitter in doubles.  
Be sure to check back in the sports section throughout the year to keep up with the current iteration Spartan sports, as well as athlete interviews, feature stories and coverage of club and intramural action
Varsity Sports
Fall Season
Football
The team is coming off an impressive 9-1 UAA championship campaign. With most of the starters from last year returning, including fourth-year quarterback Rob Cuda, third-year running back Jacob Burke and third-year defensive end Cameron Brown, the team is looking to reach the postseason for the first time in seven seasons.
Men's Soccer
Despite outscoring their opponents 20-18 over the course of last season, the team only managed a 5-9-4 record. Seven of the team's starters will be returning, including fourth-year goalkeeper Calvin Boyle. With the loss of the top two goalscorers, the Spartans will be looking for new sources to ignite the offense.
Women's Soccer
Fourth-year defenseman Neha Cheemalavagu, fresh off an All-UAA First Team selection, leads the Spartans following a 6-8-4 campaign. The team is looking to break through in conference play, as CWRU has won just one UAA match over the last four seasons. Following a breakout 2016, second-year forward Kimberly Chen will be a force attacking the net.
Cross Country
All-American Sam Merriman leads the men's team following a 21st place finish at the NCAA National Championship race. He is looking to cement his legacy as one of the greatest runners in CWRU history. Fourth-year runner Danielle Kulpins leads the women's team and is looking to improve upon her All-UAA Second Team recognition from last season.
Volleyball
After starting the season with eight consecutive wins, the Spartans finished with a 21-10 record. Second-year middle hitter Haley Sims dominated on offense (242 kills) and defense (112 blocks) on her way to being named the UAA Rookie of the Year. Look for second-year outside hitter Brianna Lemon to pace the Spartans' offense after recording 400 kills last year.
Winter Season
Men's Basketball
Head Coach Todd McGuinness led the squad to an 8-17 record in his first season on the bench. CWRU drained 233 three-pointers last year with fourth-year guard Colin Zucker nearly hitting 40 percent of his shots from beyond the arc. Fourth-year forward T.J. Duckett will again be a force for the Spartans inside the paint after nearly averaging a double-double last season.
Women's Basketball
The Spartans lit up the scoreboard last season, with All-UAA First-Team selection Kara Hageman setting a new single-season program record for points. She returns at forward along with third-year student Hillary Hellmann, who made 47.4 percent of her three point shots last season, leading the nation. CWRU is looking to build on a 13-12 record.
Swimming and Diving
Both the men's and women's teams finished 8-2 in dual meets last season. The men's squad advanced to the national meet, finishing 40th. Fourth-year swimmer Drew Hamilton returns in the free and IM races after earning two All-America honorable mentions last season. Two other members of the nationally qualifying relay team, fourth-year swimmer Oliver Hudgins and third-year swimmer Brody Schmidt, also return.  
Wrestling
CWRU will look to continue improving after 13 of the team's 20 wrestlers were underclassmen last season. A pair of 149 pound then-first-year students led the Spartans. Isaac Collier totaled 22 wins, most on the team, while Michael Petersen pinned a team-leading seven opponents.  
Spring Season
Baseball
Coming off their eighth consecutive season of 24 wins or more, the Spartans are looking to return to the NCAA tournament for the fourth time in six seasons. The team is losing two All-UAA outfielders and All-UAA pitcher Jake Shields to graduation. Third-year catcher Tyler Wypiszenski the team's offensive leader from last season, will look to continue his stellar production at the plate.
Softball
Despite losing pitcher and outfielder Annie Wennerberg to graduation, the softball team is gearing up for another winning campaign. All of the other Spartan starters are returning, including third-year shortstop Nicole Doyle, fourth-year first baseman Grace Tritchler and fourth-year pitcher Katie Dzierwa. Dzierwa pitched a no-hitter last season, the first in CWRU history.
Men's Tennis
Despite a top national ranking, CWRU managed just a sixth place finish in the UAA, one of the top conferences in the country. Four of the team's six singles players are returning, led by fourth-year student James Fojtasek at first singles. The team hopes to send players back to the NCAA tournament after missing out for the first time in five years.
Women's Tennis
Fourth-year student Nithya Kanagasegar competed at the NCAA tournament for the third year in a row, reaching the round of 32. She led a Spartans squad that went 17-5 and achieved the school's highest ever national ranking (18th). Also returning to the team are All-UAA honorees Jessica Liu (first doubles), Kendal Holladay (second singles) and Nina Cepeda (fourth singles).
Track and Field
With five UAA titles to her name, fourth-year thrower Cassandra Laios will be leading the women's track and field teams in both the indoor and outdoor seasons. Though top runner Nathaniel Wahner graduated, the three other runners on the men's UAA title winning 4×100 and 4×400 relay teams return. Both teams will be looking to send runners back to the NCAA championships.
Club Sports
Archery
The CWRU Archery Club has been active on campus for almost 40 years. They will be attending at least three events throughout the year.
Badminton
CWRU Badminton practices on Tuesday and Friday evenings and hosts Net Nights multiple times per semester.
Crew
Practicing on the mighty Cuyahoga River, CWRU Crew frequently travels to regattas in other states. Every year they compete in the Dad Vail Regatta, the largest in the country.
Cycling
In addition to competing in both road and track competitions, CWRU Cycling is better-known for hosting a bicycle tune-up every semester on The Quad.
Fencing
CWRU Fencing annually competes in the Midwest Fencing Conference in three weapons: saber, foil and epee. They placed fifth at the conference meet.
Ice Hockey
With no rink on campus, CWRU Ice Hockey practices and plays their home games at the Cleveland Heights Community Center. Two years ago, the team won their league.
Kendo
Three times a week, CWRU Kendo teaches the modern form of the ancient Japanese martial art. The club hosts tournaments as well as promotion exams for students learning the martial art.
Kung Fu
CWRU Kung Fu practices two types of the martial art, Northern Shaolin Long Fist and Seven-star Praying Mantis, as well as Shuai Chiao, a form of Chinese wrestling.
Lacrosse
Both men's and women's teams suit up for the CWRU Lacrosse Club on DiSanto Field. Students of any skill level can join.  
Rugby
One of the newer sports clubs, the CWRU Rugby Football Club is heading into its fourth year on campus. Last fall, they won the Great Lakes Conference Challenge Cup.
Soccer
The Club Soccer team competes in both the fall and spring, with practice throughout the year. They also organize events around professional soccer matches, like the English Premier League.
Table Tennis
CWRU Table Tennis hosts open tournaments in both the fall and spring semesters. The team practices twice per week.
Taekwondo
Since 1983, the club has taught students the skills, discipline and morals of the Korean martial art on campus. Belt testing is also available.
Ultimate
One of the more popular and well-known clubs, CWRU Ultimate has a large visual presence on campus. They've also been successful, recently reaching the national tournament.
Volleyball
Providing plenty of opportunity for competitive volleyball matches for both men and women, the club tries to connect everyone interested in the sport.
Water Polo
CWRU Water Polo travels to compete against clubs from other schools. They practice in the Veale Natatorium.
Fall Intramural Events
August 29- Mini golf
September 6- Flag football*
September 9- Tennis
September 23- Innertube water polo
October 2- Outdoor soccer*
October 7- Homecoming 5k race
October 14- Ultimate frisbee
October 28- Racquetball
October 28- Squash
*League start date
About the Writer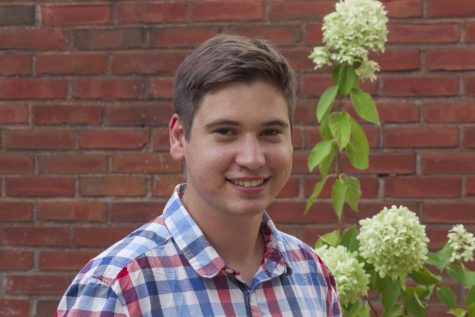 Eddie Kerekes, Executive Editor
Eddie Kerekes is in his fourth year studying chemical engineering while also pursuing a minor in German. He serves as the executive editor. Previous roles...