The Day the Music Died
Prospect Music closes after 77 years.
The skeleton of Prospect Music casts a long shadow over Huron Road in downtown Cleveland. The autograph book, where legends like John Coltrane and The Who's Pete Townshend commemorated their visits, will never again see the pen of another passing musician. After 77 years, Prospect Music is closing on Sept. 11.
Now the spot will morph from downtown Cleveland's only music store to a bar, a branch of Youngstown's Whistle & Keg Brewery.   
"The City of Cleveland doesn't need another beer joint, but that's what we're getting," said Prospect Music owner Michael Rubin.
Unlike the old-fashioned Prospect, Whistle & Keg is a business catered to the modern automated world. Instead of dealing with a bartender, you swipe your credit card and ID. You are then given a wristband that activates automated beer and wine taps. Instead of paying per drink, the customer pays by volume of liquor poured.   
The facade of the store now features in big blue letters "Everything Must Go." The wall behind the counter once plastered with guitars now features eight holdouts. One, a vintage 1932 Martin ukulele, is a reminder of the glory days.
Cleveland Institute of Music Professor Don Better said he went to the store as a teenager during the 1960s to buy sheet music. Better said he and his friends would stop by the store every weekend to browse the inventory.
"It wasn't cool by any means, but they had everything," said Better. "I still have some sheet music I bought from them."
Rubin plans to stay involved with the local music scene through his band Blue Lunch and will now be the bookkeeper for his wife's business Jerold Optical.
Since its founding in 1941 by Jack Epstein, Prospect Music has been forced to move twice. Its first location, on the street that gave the shop its name, got transformed into a bar and restaurant district, forcing Rubin to move to East 4th street. Five years later, Rubin moved again to his current location at 818 Huron Road in Cleveland. East 4th street transformed into the hip district that boasts Michael Symon's Lola, House of Blues and the Corner Alley.
Rubin bought the store in 1982. He previously worked at Prospect during the late 70s as a salesperson while performing with local bands on the trumpet.
Several factors led to Prospect's fall from grace, according to Rubin. For example, the increase in online retail, with websites like Amazon and Reverb becoming the preferred stop for buying musical instruments. Rubin said he had difficulty adapting to the change.  
Furthermore, the popularity of electronic music, with software and Musical Instrument Digital Interface (MIDI) keyboards replacing acoustic instruments, caused a reduction in the number of customers looking for the acoustic instruments Rubin specialized in.
"I don't think I would have been happy becoming a store that sold electronic devices. I appreciate some of them, but I just don't think electronic manipulation of sound has a soul," said Rubin. "I don't think you can make what's in your heart come out with a sine wave."
Rubin claimed that the city government has been the most significant negative external force affecting his business.
"I would target the city of Cleveland itself as being the biggest culprit. I'm not popular for saying these things, but a lot of people agree with me," said Rubin. "The gentrification of downtown has killed retail. The parking rules that the city of Cleveland has come up with for no apparent logical reason has curtailed our customers' ability to do business here."
Rubin said his only regret is that Prospect is ending on his watch. He said spending over half of his life in the music business gave him the freedom to be his own boss and do as he pleased.
"I've met so many cool people, just regular down-to-earth Clevelanders. The ones I liked the best were the denizens of the street who would need a kazoo or a string for the guitar they would play outside," said Rubin on his fondest memories of the store. "I met a lot of characters. If you had the opportunity to learn their backstory, it humanized them, and it made me more able to empathize with different people's plights in life. It's made me a better person."
About the Writer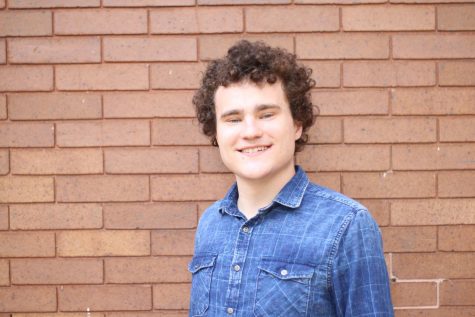 Matt Hooke, Executive Editor
Matt Hooke, The Observer's executive editor, is a fourth-year student studying English. This is his first year as executive editor after spending time...