The future of Cleveland lies in our vote
Editor's Note: The Observer only prints opinion pieces written by one author. An exception was made for this piece.
If you haven't already guessed from the litany of lawn signs and barrage of mail advertisements, there will be a general election on Nov. 7. The offices up for this election are the Mayor, City Council and Clerk of the Municipal Court. In addition, there are two statewide issues and municipal ballot measures that will be voted on as well. Issues 1 and 2, which cover the Crime Victim Rights Initiative and the Drug Price Standards Initiative, respectively, will be voted on statewide. Other ballot measures will vary depending on the district.
If you are registered to vote in the State of Ohio and have kept your registration updated, you are eligible to participate in the election. Polling locations will be open from 6:30 a.m. to 7:30 p.m. on Election Day, Tuesday, Nov. 7. For students who are seeking additional information about the election, there are several campus and external resources. Vote Everywhere Ambassadors working with The Andrew Goodman Foundation and the Center for Civic Engagement & Learning will be posting information about polling locations and voting requirements specific to Case Western Reserve University students.
Cuyahoga County, recognizing the increased need for people to register and vote, is currently leading efforts in voter engagement and supporting voter awareness. Voter turnout is higher during presidential elections, but local politics can impact residents of a city more directly. Crime and violence are major issues in the Cleveland General Election coming up Nov. 7. These issues are relevant to any resident of a Cleveland neighborhood, including students living in University Circle.
Although some students have only been residents of Cleveland for their time at CWRU, the policies and decisions made by the future Mayor of Cleveland will impact students during the rest of their time attending school here. These decisions will also influence the future of the area surrounding their soon-to-be alma mater. Students contribute to the specific environment of Cleveland when they participate in local politics. We recommend learning more about mayoral candidates Frank Jackson and Zack Reed.
A large number of students at CWRU participate not only in student organizations, but also in University offices that further the growth of the university's constituents in addition to local organizations that fight and advocate for the people of Cleveland. The effort and participation of these organizations' members helps to further their mission, but ultimately, government holds the bulk of political power over individual efforts. This power struggle can work in different ways. Government can hinder individual efforts. Alternatively, it can be strategized to bolster individual and organizational efforts. Either way, if CWRU students want the voice of their organization to be heard in this struggle, they need to vote on Election Day or fill out an absentee ballot.
So why does participating in local democracy matter? Voting is both a right and a privilege, and can be effective at the local, state and national levels. Specifically, participating in local democracy enables citizens to have a direct say in the important issues that impact their community. Students at CWRU may have passions for education, health, safety or the environment, and issues such as these are often shaped most poignantly by the politics within a local municipality.
Voting and other forms of local political participation such as attending town hall meetings, calling or writing your representatives in City Hall or even reaching out to meet your local judges are important because they keep you informed and engaged in the democratic process. Action is always better than inaction, so why not have your interests communicated and represented where it affects you most?
About the Writer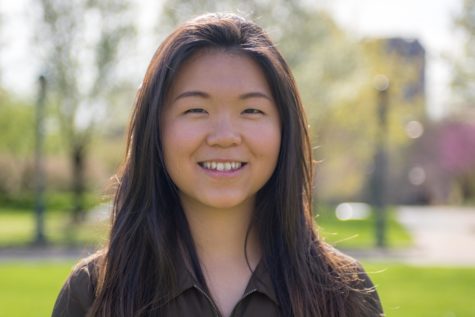 Ashley Chan, Director of Web & Multimedia
Ashley Chan is a second-year student studying economics. Ashley likes to lift. If you wish to contact her, you can email her at axc627@case.edu.