The issue with Iconic
Last Saturday night, Feb. 22, the Jolly Scholar bar and kitchen was full of drag queens and kings impersonating celebrities. Iconic: First Issue was hosted by queen Dusty Bucket and charged no cover. The show was conveniently located on Case Western Reserve University's campus, free and on an unusually warm winter night. So, where were all the CWRU students?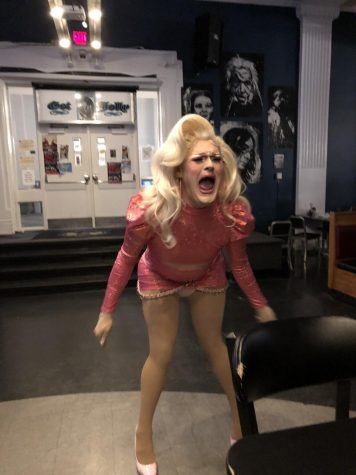 The barriers that keep a lot of college students from drag shows seem to be location, price and the diversity of the scene. Iconic brought itself to CWRU students, and yet very few attended. Also, Ionic's performers were spread across the spectrums of sexual orientation and gender identity; there were gay, lesbian, transgender and nonbinary performers. While mainstream drag is often whitewashed, Iconic featured several performers of color. That is better than some other shows, but race is an area where the community needs to be more open as a whole.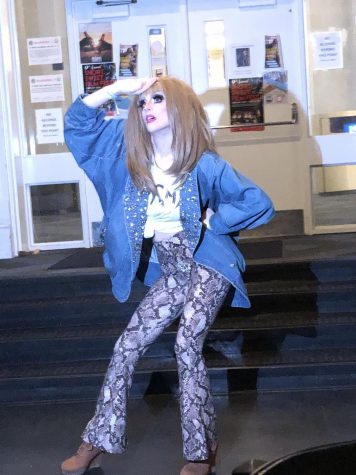 A lack of advertising is probably to blame for the low turnout; most people I spoke with after the event did not even know it happened. The only posters I saw for Iconic were inside Jolly. This is a shame because Iconic had quite the ensemble of performers, including Bucket, Dakota Cox, Ryder Slowly, Tommy Knockers, Skylar Swoon, Pineapple, Sarah Tonin and Gus Tevaire.
You'd think CWRU would have the student body to support an event like this. College Choice ranks CWRU in the top 50 schools for LGBTQ+ students, and CWRU scores 4.5 out of 5 stars on the Campus Pride Index. 
Drag, however, is not solely for a gay audience. Bucket, hostess and creator of the show, knew what Jolly's vibes were and played off of them. By doing a 2000s era celebrity impersonation theme, she hoped to appeal to both a gay and straight audience. She even joked that since Jolly is a "straight bar," the next performance would cater to a straight crowd. Riffing the 2011 Super Bowl halftime performance, Cox, Slowly, Knockers and Swoon impersonated the Black Eyed Peas.
Cox was a standout star performing as Fergie, and like Fergie, she broke off from the group during the second act to perform alone. She first lip-synced to Fergie's notorious national anthem performance. After that, though, she embodied a raunchiness and sensuality that Fergie wishes she had. Her dancing and continuous removal of the skirts she had on left the audience hollering for more. Cox's dancing skills could have carried the show on their own—and it has before, when Cox previously performed at Jolly as Beyoncé.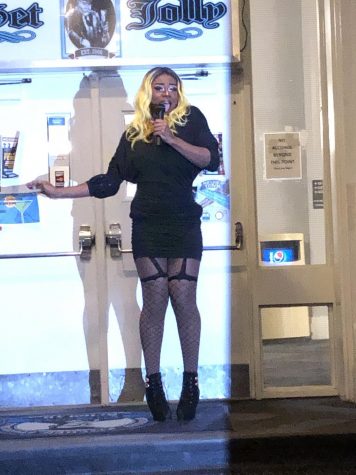 Bucket, Pineapple and Tonin all gave fantastic performances as well. They were Lady Gaga, Kesha and Paris Hilton, respectively. Tonin's impersonation of Hilton was hilarious. She had on a huge blonde wig, scandalous pink one-piece outfit and massive earrings that said "doll." Her exaggerated impressions and attitude brought the 2000s diva to life. Pineapple also gave a fun performance, pairing comedic audio like Keke Palmer's "I don't know this man" with Kesha's greatest hits.
Bucket, known for campy and comedic performances, closed the show with an intentionally crappy cover of Lady Gaga and Bradley Cooper's "Shallow." Tevaire served as her Cooper, jokingly playing a ukulele like it was a guitar. The two fake made-out during the number, poking fun at Lady Gaga and Cooper's romance rumors.
It's a shame that more CWRU students did not get to see both the talent and humor that took over Jolly's floor. Bucket sprinkled in jokes and satire throughout the night, saying that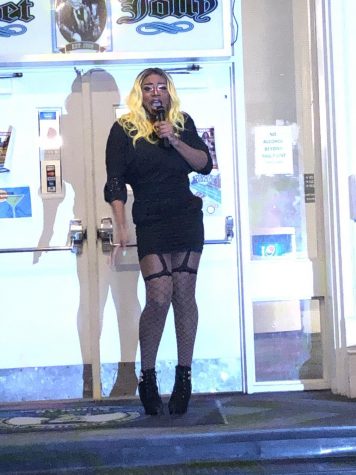 "2008 [was] the year of bimbos, and I think we're gonna bring it here tonight."
In addition to a love of the silly and shady, Iconic's theme was also inspired by Bucket wanting to make a poster that looked like a tabloid magazine. She hoped this theme would draw a diverse crowd, saying "if we are celebrities, maybe people who don't necessarily [go] see drag will at least recognize a celebrity and connect with it that way."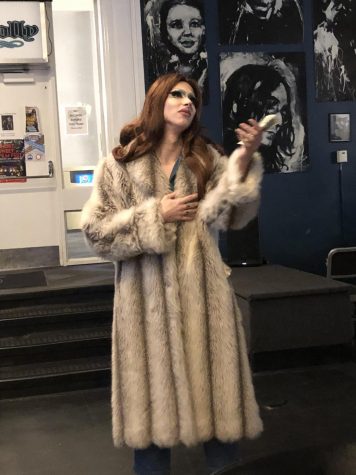 Outside of her drag persona, Bucket is known as Cassandra Harner. She identifies as a cisgender, lesbian woman, which makes her drag and dedication to the drag community all the more interesting. She performs as a queen, not king, because she feels a disconnect from masculinity, but she also vehemently defends body hair on women, proudly displaying hers during performances, and draws hairy, queer people on her personal Instagram.
Harner is yet another example of the diversity and fluidity of drag and is a reminder that almost everyone can find something to relate to in this form of art. Iconic: Issue Two will be on March 21 at Jolly, and hopefully this time, the community will come out to support performers who they might relate to more than they think.