Silence and sound from The Neighbourhood
The Neighbourhood is definitely an atmospheric band. It's a dark night on the beach, and you're exhaling smoke. That's the feel of "Wiped Out!," the band's latest album. They used the "wall of sound" technique on every track, where several different instruments are layered over each other.
But The Neighbourhood artfully goes between using a lot of different sounds to leaving a lot of empty space, ebbing and flowing like waves on the shore. The first track of the album is a complete 30 seconds of silence (it's titled "A Moment of Silence" so I shouldn't have been so surprised), which seemed like a funny thing to do at first. But after listening to the entire album, and how it plays with filling space with different parts and then with silence, it makes sense. The layered vocals and sounds make the sections with a single vocal accompanied by one or two instruments very powerful.
This album really plays with alternating sounds and distortion and I feel like the total sound was the focus of the album, as opposed to the lyrics. The production team put in a lot of work. The sound can be echoey and spacey, and then jump to being clearer with a strong drum section.
"Wiped Out!" has a few songs that really stuck out to me, but nothing is overwhelmingly catchy, which can happen with an album so focused on musicality. The Neighbourhood's sound has never been one to be in the top 40 (excluding "Sweater Weather"), but that is just because of the alternative nature of the sound. "Ferrari" and "The Beach" both fit in the with overall feel of the album, but have a more predictable format, which gives them a familiar feel. "Ferrari" also stuck out to me because it had an intensity the other songs did not have. "Single" is one of my favorites from the album because of the emphasis on the gorgeous vocals during the beginning of the song, almost like a serenade, and then the instrumental part in the middle picked up the pace, and the contrast was really powerful.
The album accomplished everything that I feel The Neighbourhood wanted. It's a beautifully crafted album that will be a favorite to those who love the sounds of Atlas Genius and an older and less sexy The Weeknd. It might even make those who aren't into alternative music a fan of the genre.
Album: "Wiped Out!"
Artist: The Neighbourhood
Released: Oct. 30
Label: Columbia Records
Rating: ★★★★½
Leave a Comment
About the Writer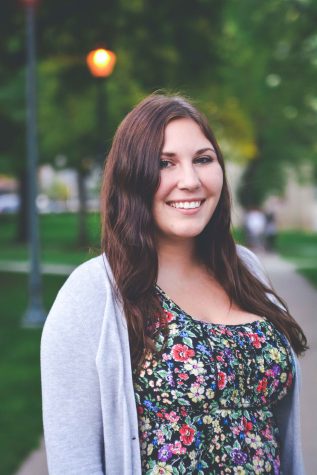 Alex Clarke, Arts & Entertainment Editor
Alex Clarke is a senior with majors in english and psychology and a minor in marketing. She also writes for Trill Mag, wrote for McClatchy newspapers for...