The return of Kyrie Irving
Andrew Ford, Staff Reporter: Cavs fans should, and will, boo the heck out of Irving. To be clear, there is nothing wrong with what he did; he has every right to make his wishes known to the front office. But if I were a diehard Cavaliers fan, it would feel like betrayal by Irving. He decided to put himself above the team, so he does not deserve a warm welcome; he has asked for a rude awakening from some of the most passionate fans in the world. It's almost the same situation as when LeBron James left, and it will be the same reception. I expect Cavs fans to devote the majority of their energy towards shaming the player that won them Game 7 in the city's only championship in half a century.

As for the atmosphere, it will feel like an NBA Finals game, when you combine the fact that it is the opening game of the year (possibly James' last first game as a Cavalier?) and they are facing their most competitive rival in their conference. Players and fans alike will bring an unfathomable amount of emotion and energy to the opening game.
David Chang, Staff Reporter: I agree with Andrew in that Irving should be booed. When Irving first came to a league as an undoubted star missing most of his one and done year at Duke [University], we were all impressed with his flashy handles and his magician-like ability to finish around the rim. He made people care about the Cavaliers again, and I actually knew who Tristan Thompson and Anderson Varejao were because of Irving. With the "Uncle Drew" series, we all fell in love with his likable character.
Flash forward five years, Irving has changed from winning a championship, Rookie of the Year, All Star MVP and a three-point contest. Did he miss the days when he had the opportunity to carry his own team? Does it matter that much if the public cared more about James's triple double than your thirty point game? There are always many possessions that James will ultimately let Irving isolate. Irving can even get away with his sometimes lackadaisical defense, especially on the pick and roll. Ultimately, how could he give up a ticket to the Finals in the weak Eastern Conference, playing alongside a future all time great?
I think Irving tries too hard to be philosophical. Although he went to Duke, he not only proclaimed his flat-earth beliefs but also said that dinosaurs did not exist on Richard Jefferson's podcast. Well how did Irving watch the solar eclipse? Is he going to feel uncomfortable taking interviews from the Boston Globe? If Cavaliers fans take a closer look at Irving as a person and player, he should be booed.
Jacob Rayyan, Staff Reporter: I don't think Irving should be booed, considering that he was the major reason that James even came back to Cleveland anyway. As we all know, James only comes to teams when surrounded by other world-class talent. Irving deserves to be praised for playing an integral part in bringing Cleveland their first championship in over a generation and playing a major role in all three of Cleveland's recent runs.

While I would not put it beneath Cavaliers fans to boo him, I would do nothing but applaud him for his time.

Did he leave a prime opportunity playing alongside James? Sure.

Would anyone of his caliber be sick of hearing all the James trade rumors and having to deal with James for years? Absolutely.

Good for Irving, I am happy he made his choice and hope Cavalier[s] fans appreciate the relevancy that he brought back to basketball here and the integral role he played in giving this town a championship.
Eddie Kerekes, Sports Editor: As a Cavaliers fan, if I were at the game, I would boo really hard when Irving was introduced, but not after that.

Jacob, I understand what you're saying. Irving had the greatest shot in team history. But I can't respect a player who wants to leave his team with two years left on his contract. He had such a great thing going here in Cleveland. And, he would have gotten what he wanted after James leaves next season anyway. That's why he will and should get booed.
Sanjay Annigeri, Staff Reporter: I agree with the fact that Irving will get booed. Even though he is known for making the game winning shot to bring the Cavaliers first title in over 50 years, he left a championship caliber team complaining and not communicating with his teammates about what his desires were. I'm not against Irving leaving for personal benefit, but he should be respectful toward his team and explain where he is coming from. He wouldn't be as disrespected by Cavaliers fans if he just communicated better with the team.
Niko Kamlet, Contributing Reporter: Yes, Irving wanted the center of attention. Yes, he wanted out of Cleveland to get it. But does he deserve to be booed in his return to Cleveland? Probably not. Granted, I would most definitely join the boos if that were to be (and will be) the reaction, but he contributed so much to the organization to praise. Going off David's point, he provided a glimmer of hope after an atrocious 2010-2011 season. His undeniable talent got people excited.
Although not one of James' caliber, he is an exceptional talent. He was also a centerpiece to bringing a championship caliber team to Cleveland. There is no possible way James comes back if Irving was not in Cleveland, and subsequently Kevin Love wouldn't be on the Cavaliers either. Not only all this, but for dear Lord he sunk the shot that gave the Cavaliers and their fans the championship they craved for so long. So should he be booed? No. Will he be booed? Without [a] doubt.

Thinking about the kind of game that will be played, I anticipate it to be electric. These two teams are the teams to beat in the East, and almost undoubtedly, one of them will be competing for the NBA title come June. The Cavaliers fanbase will be ruthless with Irving, but this will likely motivate him and [his] fellow teammates further. Neither team wants to lose a game of this magnitude but one must, and it will also give fans a taste of what is in store for the rest of the year between these teams.
About the Writer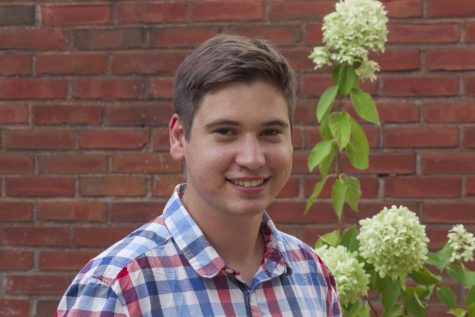 Eddie Kerekes, Executive Editor
Eddie Kerekes is in his fourth year studying chemical engineering while also pursuing a minor in German. He serves as the executive editor. Previous roles...