The sounds of CWRU sports
Your midterm exam will be in a few days, and you've decided to start studying. You know the road to an A is paved with multiple problem sets, homework review, rewatching lectures on MediaVision and trying to understand that one concept you just can't seem to grasp. You're going to need music to pump you up before you start, "Rocky IV" style. What are you going to listen to?
Perhaps you want to listen to the tracks that the Case Western Reserve University varsity sports teams put together. The Observer reached out to the captains of the teams and of the 13 who responded, nine said their team used a pre-game pump-up playlist. The CWRU teams who do not use playlists are the women's tennis team, the women's cross country team and both the men's and women's track and field teams.
The playlists are quite diverse in their individual song selections, but not so much artist or genre wise. The most popular song, "679" by Fetty Wap, is only on three playlists and only six other songs are mentioned on two lists.
These numbers are quite different when you look at the popular artists, though. Songs from the 20 artists who either sing or are featured on at least two songs make up almost half (48 percent) of the playlists, and the top 10 artists contribute slightly more than a third of the total songs. Chris Brown, the most popular artist, either solos or is featured on nine separate songs, and right behind him is Jay Z, who contributes eight songs to the lists. The rest of the top 10 are 50 Cent (six songs), Kanye West (six), Lil Wayne (six), Drake (five), Rick Ross (five), Fetty Wap (four), Flo Rida (four) and Kid Ink (four).
All 10 of those artists sing hip-hop songs, which makes it no surprise that hip-hop is the most represented genre, with 38 percent of the songs. These artists are also a very successful group receiving a combined 350 Grammy nominations and winning 98 of them.
To compile the lists, each team uses a different approach, but all of the captains, except women's tennis and men's soccer, said it is a collaborative effort between either the whole team, the seniors or the upperclassmen. The collaboration probably explains the many unique songs played. As a few captains noted, all of the songs must be approved by the Student Information Director before being used, as they are played on loudspeakers in a public setting. Thus, the songs with expletive lyrics selected by the team are different when heard before matches because the "clean" version has been chosen.
Some teams have a general set of criteria they use to take suggestions. Fourth-year student and defenseman Lauren Wichman said the women's soccer team chooses songs based on "overall popularity among the squad" and "ability to dance and sing" along.
Unlike most teams, the men's cross country team is quite specific in its selection of songs, according to fourth-year runner Chippy Kennedy. Their list only contains three songs, "Hooked on a Feeling" by Blue Swede, "Build Me Up Buttercup" by The Foundations and "I'll Make a Man Out of You" by Donny Osmond, and each one complies "with the cross country team's commitment to our Keystones of team chemistry, placement and algorithms."
The longest playlist belongs to the volleyball team, at 52 songs. The list is deceptively long, however, as fourth-year student and outside hitter Carolyn Bogart mentioned each song plays "for about a minute each," and most songs are around three minutes in length.
The next time you're looking to pump yourself up, follow the lead of CWRU athletics. Put on some Fetty Wap and Chris Brown and let the studying begin.
About the Writer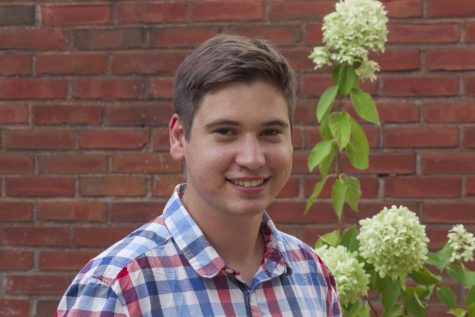 Eddie Kerekes, Executive Editor
Eddie Kerekes is in his fourth year studying chemical engineering while also pursuing a minor in German. He serves as the executive editor. Previous roles...