The team comes first for second-year soccer player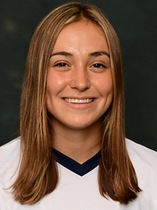 Christina Hickson is a second-year forward on the Case Western Reserve University women's soccer team. In just 10 games this season, she has recorded 16 points, including six goals and four assists. She loves being a part of soccer simply because of everybody around her. The entire team wants to see each other succeed. Hickson is interested in economics and political science, but currently remains undeclared. With what little free time remains for leisurely activities, Hickson enjoys watching Netflix and, of course, soccer.
What is your favorite part of being on the soccer team? Why?
My favorite part is getting to spend a lot of time with my teammates, both on and off the field. I feel like this also translates onto the field, which can be seen in some of our recent performances. Getting the opportunity to travel and play some of the best Division III schools in the country is also awesome!
Do you have any games that you remember being particularly special? Why?
Our 8-0 win against Fredonia was pretty cool. It's always fun to score, but it's even more cool when it isn't just one player. I think six different people scored in that game and that shows our depth. It will definitely make it harder for future teams to play us because they can't just focus on one player. It's awesome to see so many people performing well and it reflects in our record so far! It's also great for everyone's confidence, especially going into tougher games. 
Do you have any thoughts on what you might major in? What interests you about it?
I'm planning on being an economics and political science double major (but currently undeclared). I really want to attend law school, so I felt this combination would help prepare me for that path best.
What are your favorite free time activities? Why?
We don't get a ton of time outside of classes, soccer and studying but when we do, I love watching Netflix, shopping and napping. I also love to watch the Premier League, MLS and collegiate-level soccer. I'm not bandwagon, but my favorite teams are doing pretty well right now.
What is your favorite quote or what inspires you?  
"The harder you work, the harder it is to surrender." -Vince Lombardi