Thin Wallet, Fat Jams: Good live music on the cheap
Cleveland's vibrant concert scene is one of the highlights of Northeast Ohio.
Different venues are littered throughout the city, drawing in music-lovers from all over the state. However, living at Case Western Reserve University gives students the opportunity to experience live music with just a short bus ride or even a walk through campus.
With a free bus pass in hand, nothing really stops CWRU students from exploring the world of music that Cleveland offers.
Well, that is, except the money.
I know that, as a poor college student myself, the costs of some concerts can be considered steep if their prices climb above 15 dollars. However, a few local and free concerts are common near CWRU.
Here are a couple of free shows worth checking out:
Legacy Live Summer Concert Series
Hop on bus 32 for a short ride to Legacy Village, a nearby outlet mall that hosts live concerts every weekend up until Sept. 21. Admission is free for the outdoor event, and restaurants like Cheesecake Factory and California Pizza Kitchen offer the opportunity to make it a "dinner and a show" kind of evening.
The concerts put on at Legacy Live are incredibly varied, and bring in local bands that specialize in almost any genre. On Friday, Aug. 30, Blue Lunch, a jazz/swing/blues band, will perform only to be followed up the following day by Skinny Moo, a rock/R&B/funk band. Both bands perform from 6:30 to 9:30 p.m.
Legacy Live attracts many different people, and the shows are sure to be family-friendly. This event is a good chance to try and break out a picnic blanket or some lawn chairs before the Cleveland sun departs for the fall.
World Festival
The Rock and Roll Hall of Fame was very active in putting on free concerts this summer, but only one free show remains this year. Though World Festival is the last community event that the Rock and Roll Hall of Fame will host in 2013, it will bring in music from all different cultures to celebrate the world's varied ethnicities.
Community events at the Rock Hall are the most popular of their free series. The event is held outdoors near Lake Erie, and does not include free admission to the museum. The music festival is a bit far off, held on September 22, but at least it is not a tough show to get to. The Healthline can take passengers directly from CWRU all the way to downtown Cleveland, from which the Rock and Roll Hall of Fame is a short walk.
There are definitely more free shows available at different venues, but they can be hidden in schedules of costly headliners. A few free concerts always pop up on the Beachland Ballroom/Tavern, Grog Shop and Peabody's websites, and checking them often can lead to some fun and free evenings. However, those same venues put on cheap shows that will cost a few bucks to get in, but will not empty wallets.
Here's some upcoming shows that cost ten dollars or less:
MoJoFlo/Uptowne Buddha: $5
Nestled around the corner in Coventry, The Grog Shop is a fun venue that hosts bands from far and wide. On Aug. 30, MoJoFlo and Uptowne Buddha will take the stage. MoJoFlo's funky sound is very upbeat, with soulful singing, jazz influences and synth additions. This concert's prevailing funk theme is altered with Uptowne Buddha's hip-hop/rap style. This band creates a grungier funk to accompany the poppy funk by MoJoFlo.
The Greenies make regular runs to Coventry, and so does Bus 32. Walking is even a feasible option, especially during the day. The Grog Shop hosts big and small bands alike, but their shows' prices usually average somewhere between ten and 20 dollars.
The Ghost Wolves/Church of the Lazy Bastards: $7
The Ghost Wolves' laid-back rock style is beachy and chill, yet still danceable because of grunge and punk influences. Meanwhile, Church of the Lazy Bastards mixes together old-style country with indie and blues; their slow and lazy style reminds me of sitting in a saloon— or, at least, what I imagine sitting in a saloon would feel like.
These two bands break away from the indie/alternative music that frequents Beachland Tavern. Though Beachland is a little trickier to get to from CWRU, it only includes two different buses to get there. The show is on Sunday, Sept. 1 at 8:30 p.m. and is ideal for students that do not have early Monday classes.
CWRU students have many opportunities to adventure in the world of music, even if it is just by exploring different shows on campus. Free shows offered at CWRU include Studio-a-Rama, the Homecoming concert, and Spot Nights. Spot Nights, held every Wednesday during the school year, are especially worthwhile shows to attend. CWRU's University Program Board (UPB) has a knack of choosing up-and-coming artists that put on amazing shows. In 2009, Passion Pit performed at a Spot Night show; now they are performing at this year's hugely anticipated Homecoming Concert.
Checking out local music can be a gamble, but it will always be a treat to be able to say "I saw them for free/cheap at college!" when they start to make it big.
Leave a Comment
About the Writer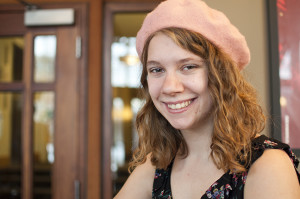 Anne Nickoloff, Director of Print
Anne Nickoloff, the Director of Print for The Observer, is a senior at Case Western. She hopes to one day be a music journalist, and has spent much of...