This week in CWRU sports
Two top four finishes for track and field teams
The men's and women's track and field teams competed at the Joe Banks Invitational in Ada, Ohio on Saturday, Feb. 3. The men's team finished fourth overall out of 14 teams with 77.5 points and the women's team placed third with 83.5 points.
Case Western Reserve University will be competing in two meets this weekend. On Friday, Feb. 9, part of the team will be traveling to Berea, Ohio for the Mid-February Meet. The following day, another section of the team will go to Westerville, Ohio for the Indoor All-Ohio Championship.
Oddo breaks school record in heptathlon
On Feb. 4, second-year all-around athlete Dominic Oddo placed second in the heptathlon in the All-Ohio Division III Multi-Events Championship and set a school-record with 4,615 points. In all seven events, Oddo was one of the top four finishers. He won the long jump with a leap of 6.78 meters, setting a new meet record in the event, and tied for first in the 60-meter hurdles with a time of 8.56 seconds.
Oddo and first-year all-around athlete Kai Fletcher combined for 10 team points that will be used at the All-Ohio Championship on Feb. 10.
Men's tennis falls to Division I opponents to open season
The No. 15 men's tennis team lost to two Division I schools to start the 2018 season. The Spartans fell 5-2 to Northern Illinois University and 6-1 to Cleveland State University on Saturday, Feb. 3.
The Spartans face Division III competition on Feb. 9 and 10, facing off against Oberlin College, Wabash College and No. 9 University of Chicago at home.
Fourth-year forward T.J. Duckett earns multiple honors
The University Athletic Association (UAA) named fourth-year forward T.J. Duckett Athlete of the Week for men's basketball after he scored 40 points and nabbed 22 rebounds over his last two games. D3hoops.com also named Duckett to its Team of the Week. He leads the UAA with a 61.7 field goal percentage and is second in the conference with 10.6 rebounds per game. 
The Spartans' final two home games for the 2017-18 season are on Feb. 9 and 11 against the University of Rochester and No. 13 Emory University.
First-year named UAA Diver of the Week
The UAA named first-year diver Cassiel Yuzik its Diver of the Week following his performance against Baldwin Wallace University. The first-year diver won both the one-meter and three-meter events, with a combined score of 486.75 points. He ranks in the top ten in both events in the UAA.
CWRU will compete in the UAA Championships from Feb. 14 to 17 at Emory University.
About the Writer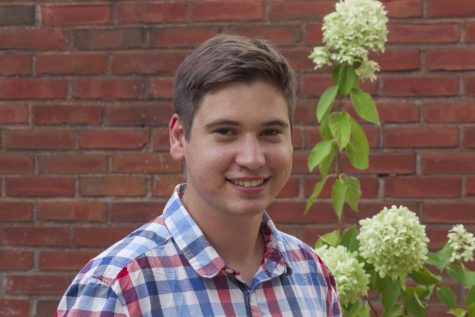 Eddie Kerekes, Executive Editor
Eddie Kerekes is in his fourth year studying chemical engineering while also pursuing a minor in German. He serves as the executive editor. Previous roles...