Timberlake is a lost "Man of the Woods"
There are very few things that have confused me as much as Justin Timberlake's fifth album "Man of the Woods," which dropped Feb. 2. This album is kind of pop, kind of country, but is mainly rushed and incoherent, clocking in at a little more than an hour, with 16 songs.
One of my biggest concerns with this album is the timing. When Timberlake announced that he'd be the headlining act for this year's Super Bowl Halftime Show, it wasn't confirmed if there was an album coming, but announcing he was headlining the show might've been his of way telling us so. What resulted was a lazy album that doesn't challenge Timberlake at all. The producers of the album, Timbaland, Pharrell Williams and Danja all seemed more focused on the sound rather than the songs themselves. You'd expect more.
The leading single off the album, "Filthy" was the complete opposite of the "modern Americana with 808s" we were promised, and this is where things went downhill. It sounded like Timberlake was bringing sexy back, but then he released "Supplies" which was way more apocalyptic and foreboding and seemed more in tune with what this album was going to be. But, that's all this album was, one curveball after another; I can't even tell what Timberlake was going for.
The biggest curveball is "Montana" that seems like it'll be super country, but is actually super funky, and solidifies Timberlake's title of prince of pop.
There are only two collaborations on this album; one with Alicia Keys and one with Chris Stapleton. Both come consecutively and both have two very different sounds. "Morning Light," which features Keys is slow and more laid back but their voices complement each other very well. "Say Something," which features Stapleton is a clever fusion of country and pop-funk, and is an indicator of what this album might've been if Timberlake had been a little more careful with it.
The good thing that comes out of the lack of collaborations is the chance for Timberlake to let his vocals shine; they're as smooth as they've always been, and his range is unsurprisingly impressive. In the end, Timberlake promised us music that'd make us move, and he did just that. Unfortunately, much like his Super Bowl Halftime Show performance, "Man of the Woods" is lackluster.
I also think it's worth noting that I could not get through barely an hour's worth of music in one sitting.
There are good parts and there are bad parts, but it's up to the listener to decide what they want to focus on. But we get it, Justin, you went camping once and now you wear flannel. This album was not the way to tell us that.
Album: "Man of the Woods"
Artist: Justin Timberlake
Release Date: Feb. 2
Rating: 2.5 out of 5 stars
Leave a Comment
About the Writer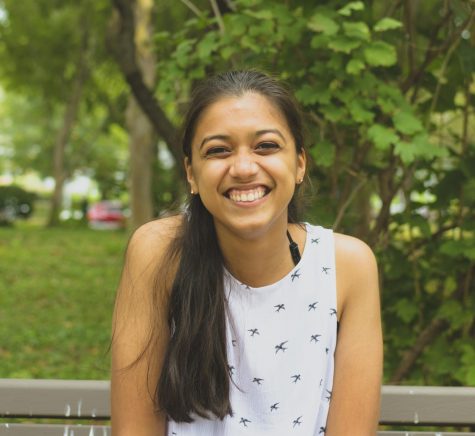 Shivalika Keni, Copy Editor
Shivalika Keni is a second-year double majoring in Economics and Physics on the pre-law track. She's been a copy editor for a year and loves spending her...