Timeflies when you're having fun
UPB's Fall Concert impresses
University Program Board's (UPB) Fall Concert was one of those moments where nothing particularly spectacular happened: Everything was just good and went smoothly. I prefer this to concerts where fights break out, there's an hour's wait for an artist or an artist gets the university's name wrong.
During Atlas Genius' performance, the concert opener, the atmosphere of Veale Athletic Center felt quite different than in the past. Everything was bluish, the room lit just enough that everything seemed to be in shadow. You could make out people in the crowd around you, but it was easy for all the heads to morph into one congenial crowd.
Atlas Genius helped set this mood with their mesmerizing ensemble of guitars, drums and keys. Their sound was airy with the vocals sounding like they were coming from far away (which was intentional—the vocalist pressed a button before talking to the crowd and then again before singing).
Their stage presence felt authentic: These men knew their instruments, which was the resounding audience comment about the opening act. Their style of rock was a mix of the feeling of floating downstream and what Nirvana would be if it was an indie band from Australia. Also, their light technician deserves recognition because even though I was temporarily blinded because of my unfortunate position, the clear yellow and pink beams that lit up the stage looked more professional than I think we've seen at Case Western Reserve University.
They also played Frisbee in Veale Athletic Center after the performance and had the best hair, so they win in my heart.
Some audience member were not as impressed, however. "I thought it was disappointing that they have a new album out but were still playing covers," said Mary Kate Macedonia, a fourth-year student. "It wasn't super creative, and the energy was not there at all. It came off just a little bit flat."
Timeflies felt like a more mainstream artist that would come to a college concert, and the duo brought more energy to the formally chill crowd. Not being super familiar with the artist, I found Timeflies to be the most poppish rap I have ever heard (which is not a bad thing). It was fun and carefree, and the crowd really seemed to enjoy it.
The two members of the band were energetic on stage and interacted with the crowd throughout their performance. Even Rob Resnick, who creates the beats (whether through equipment or with his mouth) came to the front and got the crowd going. Usually the beats guy stays in the back—way to break the drummer stereotype, Rob. The freestyle about all of CWRU's special quirks, including shout outs to Case Wireless and Greenies, was also appreciated.
"I thought the rap was cool when he brought in Case references," said Sasha Ali, a fourth-year student, "but overall I wasn't too impressed."
Ali also said that it seemed like Cal Shapiro, the vocalist, was lip syncing over his own songs. "Someone else pointed it out and then I noticed," she said.
The band made a better impression on other students. "I want to see them again," said Maggie Capozzi, who later bought a ticket for Timeflies Nov. 11 performance at the House of Blues.
Overall, I think UPB picked two artists that fit very well with the student's preferences and fit well together. Things ran smoothly and the artists were talented and entertaining. The general consensus was that it was a good time, not the best time ever, but still a fun night. My only hope for next year's concert is that even more people attend.
Artists: Atlas Genius and Timeflies
Date: Sept. 26
Location: Veale Center
Rating: ★★★★☆
About the Contributor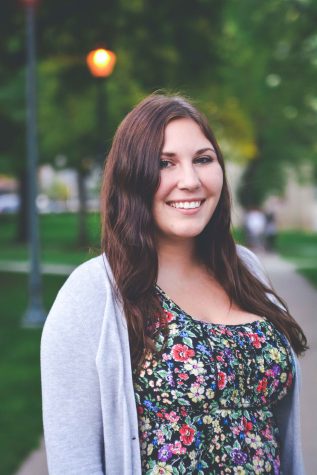 Alex Clarke, Arts & Entertainment Editor
Alex Clarke is a senior with majors in english and psychology and a minor in marketing. She also writes for Trill Mag, wrote for McClatchy newspapers for...