Tinashe's "Joyride," more like "rollercoaster"
After three years' worth of delays, Tinashe's "Joyride" is finally here.
Since her debut in 2014, Tinashe has released a steady stream of music, but nothing has really stuck. Unfortunately, I don't think "Joyride" is about to do that, either. Clocking in at only 36 minutes, the album feels a lot longer than it actually is. "Joyride" is anything but.
The album opens up with "Keep Your Eyes On The Road," which seems like an unnecessary opener. The following song, "Joyride" was an unexpected banger which shows off Tinashe's vocal range, and is nothing like anything else on the album. The titular track didn't come without its challenges, though; it was initially written for Rihanna's ANTI, but didn't make it on to the album. In the end, Tinashe bought the rights to it.
"Ain't Good For Ya," an interlude, is the song you didn't know you needed. Featuring a lilting flute melody and Tinashe's smooth vocals, it's a good break amongst all the ordinary tracks on the album.
The collaborations are the obvious highlights, and the star power that Tinashe ropes in solidifies the songs. "Faded Love" with Future is a sultry, catchy club-to-bed banger, and is precisely the Tinashe sound for which I came. "Me So Bad," which features Ty Dolla $ign and French Montana, works despite its odd range of sounds and vibes. "Stuck with Me," featuring Swedish electronic band Little Dragon, is an unexpected favorite, and is definitely what the album would've sounded like if Tinashe had put more effort into the arrangement.
"Salt" and "Fire and Flames" are two slow songs with deeper, more meaningful lyrics. The former talks about heartbreak, asking someone to go easy during a breakup. The latter sings about being with someone who isn't good for you. Tinashe tries to keep things more relatable, but "Fire and Flames" was definitely not the best way to end the album.
The order of the album's tracks is not cohesive, and listening to it in the order it's arranged in diminishes its quality. Listening to it on shuffle helps to make more sense of the album and the songs individually.
I had such high hopes for the album, which is headed by an artist who has so much talent. "Joyride" is ordinary at best, and Tinashe could've done so much more with this album.
However, Tinashe has still managed to prove her popstar prowess, and showed that she's not leaving the scene anytime soon.
Leave a Comment
About the Writer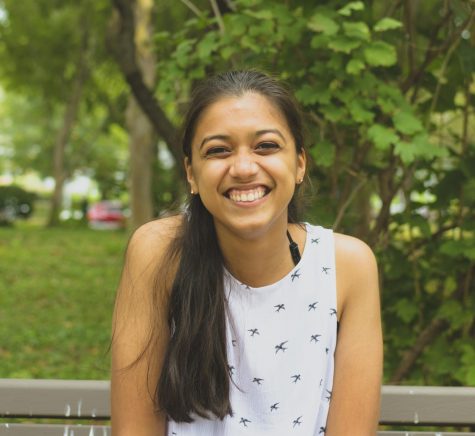 Shivalika Keni, Copy Editor
Shivalika Keni is a second-year double majoring in Economics and Physics on the pre-law track. She's been a copy editor for a year and loves spending her...