To China and back
Third-year volleyball player sticks with sport despite international travel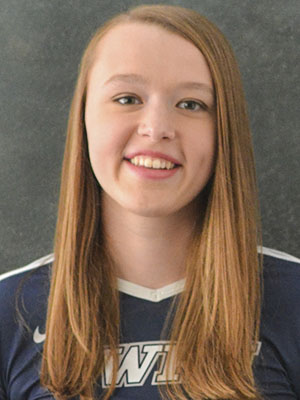 Haley Sims is a third-year volleyball player who plays middle hitter. She has dedicated her life to volleyball since sixth grade and has not looked back. Off the court, she is involved in Alpha Chi Omega and Theta Tau. Her family experiences have led her to study biomedical engineering to better understand why and how conditions occur.
What is your favorite part of being on the volleyball team? Why?
My favorite part about being on the team is all the friendships that I have made. Some members of the team are my best friends. They are there to support be through the good and bad times on and off the court. No matter what, I know they have my back.
Where did you get your passion for volleyball? Any good stories?
I started playing volleyball in sixth grade. I used to be a dancer, but when we started middle school all my friends decided to go to volleyball tryouts. I ended up quitting dance and trying out with them. In eighth grade, my family moved to China for three years. I continued to play volleyball there, but it was a very different environment. We got to travel all over Asia to play games. The experiences and friendships volleyball has given my are why I continue to play the sport. I have grown to love it over the years and can not imagine my life without it.
Do you have any matches that you remember being particularly special? Why?
Last year we played Carnegie Mellon [University]. It was a tough fought match on our home court, and we came out victorious. They were ranked that year and had a team full of very talented seniors.  I will never forget the energy we had on the court or how happy we were to be able to pull of that win.
Aside from volleyball, what else are you involved in on campus? Can you explain your role?
I am in Alpha Chi Omega. I was on our executive board last semester as Vice President of Chapter Relations and Standards. This semester I am our IM [intramural] chair. I am involved in Theta Tau, the professional engineering fraternity.  For the fall and spring semesters of my sophomore year I was the pledge educator. I also just signed up to participate as a dancer in Spartanthon for my second year in a row.
Why are you majoring in biomedical engineering? What interests you about it?
I am majoring in biomedical engineering because when I first came into college I was unsure if I wanted to go into the research side of medicine or the actual medical field. I have had a lot of experiences in my life which different family members and friends having health problems that don't typical strike their age or gender. I really wanted to find out why this was possible and get a better understanding of the medical field.