Track and field teams break records
Spartans prepare for UAA Indoor Championships
Led by multiple record-breaking performances by runners, the Case Western Reserve University men's track and field team was able to finish first out of four teams with 190 points in the Greater Cleveland Colleges Meet, while the women's team finished second out of six teams with 125 points.
CWRU sprinting records were broken by third-year student Nathaniel Wahner in the 200-meter dash and by Rasheed Ajala in the 55-meter dash. Wahner won his event with a time of 22.74, which beat the previous record, which was set last year by Josh Malone, by 0.06 seconds. Ajala came right behind him to finish second, with a time of 23.73 seconds.
Ajala's record winning time was 6.66 seconds, which broke the previous record set in 2012 by Matt Jurcak, by two seconds. Wahner was able to place fourth in the 55-meter dash, behind Ajala, who finished second, and second-year student Zak Hurd, who came in third.
In the 500-meter run, second-year student Andrew Ibibo beat a CWRU record from 1995. Ibibo's time of 1:06.68 won him the event, and beat James Harris' 1995 record of 1:06.68.
Ibibo recounted the experience of beating the record, remembering his coach and teammates shouting at him from the sidelines. "I remember hearing my teammate Nico shouting 'How bad do you want it?' as I rounded the last corner. 'Real bad,' I thought to myself pushing even harder down the straight," said Ibibo. "As I crossed it all I could think was 'Did I get it?'—I actually ran back to the line to check my time right after my race, but they didn't stop the clock in time."
When the results came in, Ibibo said he couldn't stop smiling.
The Spartans were able to take the top two spots on the women's 5,000-meter run and the men's mile run. Leading the 5,000-meter run were fourth-year students Laura Wheeler and Veronica Cole, who finished with times of 20:24.78 and 20:29.09, respectively. Leading the mile run were second-year student Nicholas Knorz and third-year student Mitch Baller, with respective times of 4:38.04 and 4:41.01.
The Spartans were also able to sweep the men's 3,000-meter run, led by fourth-year student Timothy Travitz, fourth-year student Tony Spalding and second year-student Ben Whitman, with times of 9:18.68, 9:25.39, 9:27.88, respectively.
Another first place finish included first-year student Olivia Newman, with a time of 26.79 on the 200-meter dash. "I wasn't interested in the placing as much as I was the time." said Newman, "I hadn't ran a 200 on fresh legs yet this season, so I was really excited to see what I could do. When I saw my time, I couldn't have been happier."
The Spartans also had first place finishes from fourth-year student Gabe McLeod, with a time of 2:02.45 on the 800-meter run, and third-year student Michael Girbino, with a time of 16:08.41 on the 5,000-meter run.
The Spartans' next meet will be the University Athletic Association Indoor Championships at New York University in Manhattan. As it is a big meet, the entire team is putting in extra time to prepare. Newman explained, "This week is all about being smart with workouts and resting the body. This weekend my goal is to PR in the 400 and place as high as I can. I know that as long as I give 100 percent this weekend my training will take care of the rest."
"I'm really working on focusing on my race, confidence, and execution," said Ibibo. "I have a tendency to get caught up in everything and allow myself to get psyched out by the other racers. If I can avoid this I'm positive that I can really execute and come home with some points. Coach said he believes in me and I believe in him, so I have a good feeling about this weekend."
The action kicks off at 5 p.m. on Saturday, Feb. 27, with the competition wrapping up on Sunday, Feb. 28, with events starting at 10 a.m.
Leave a Comment
About the Contributor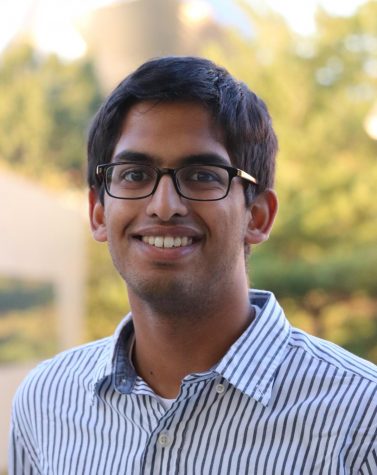 Shounak Bose, Web Editor
Shounak is a fourth-year biomedical engineer and is the web editor for The Observer. He is also a brother of the Delta Chi Fraternity, and is involved...