Track and field teams continue to break records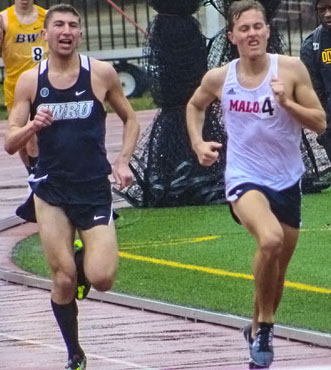 As the snow begins to melt and the weather begins to warm, the Spartans continue their blazing record breaking streak.
The Case Western Reserve University track and field teams split and attended two seperate meets last week. The throwers travelled to Pittsburgh to compete in the Carnegie Mellon Quad meet, and the rest of the team competed at the Otterbein April Fool's Invitational in Westerville, Ohio. The men's team finished second behind host school Otterbein University, while the women's team placed fourth overall.
Graduate student Cassandra Laios once again stood out, setting new records in the hammer throw and shot put at the Carnegie Mellon Quad meet. Her new mark of 54.16 meters beat out her previous school record of 52.48 meters. Laios shot put mark went up from 13.29 meters to 13.48 meters, another new record.
Third-year Spartan Abbey Waltz broke her previous school record of 3.42 meters in pole vault, which she set last year, with a mark of 3.52 meters. The mark earned her a second place finish in the meet.
Other top performer's for the Spartans include third-year runner Madeline Lindemann, who placed second in the 5,000-meter run with a time of 17:57.19. Fourth-year Spartan Jennifer Hoffmann crossed the finish line in third in the 1,500-meter run with a time of 4:55.58, while second-year teammate Grace Kemerer also placed third in her event, the 3,000-meter steeplechase, which she finished in a time of 12:02.96.
The Spartans also earned a fourth place finish by fourth-year hurdler Olivia Newman, who finished the 400-meter hurdles with a time of 1:09.27. Also finishing fourth was the women's 4×100-meter relay team, which finished in 50.49. The team was composed of Newman, second-year student Julie Hines, third-year teammate Bari Love and first-year Spartan Ana Scherf.
As for the men's team, their 10 top five finishes demonstrated their strong performance in all events. Second-year jumper Jordan Butler led the Spartans, finishing first in the long jump with his personal best mark of 6.48 meters.
Fourth-year Spartan Anath Suresh's mark of 12.88 meters earned him second place in triple jump, and second-year student Dmytro Blundell finished second in the 3,000-meter steeplechase with a time of 9:55.69, followed closely by second-year teammate Eric Rachita at fourth, finishing in 10:02.27.
In the 5,000-meter run, third-year runner David Hall claimed third, finishing with a time 15:13.05. Second-year runner Trey Razanauskas also placed third in his event, the 1,500-meter run, with a time of 4:04.16. Third-year Spartan Jonathan Haling finished fourth in the 800-meter run with his time of 1:59.03. The 4×400-meter relay team of Haling and first-year teammates Juan Perez, Logan Singer and Bryden Moxley earned third place, crossing the finish line at 3:33.67.
The track and field team will again split and head to two meets on Saturday, April 6. Team members will compete at either the Marv Frye Invitational hosted by Ohio Wesleyan University in Delaware, Ohio or the Bob Kahn Invitational hosted by Oberlin College in Oberlin, Ohio.