Trading up in the world
Graduate students earn award for trading algorithm
Friday the 13th is supposed to be an unlucky day, but for some Case Western Reserve University students it was a very lucky day indeed. On Friday, Jan. 13, a group of five graduate students at the CWRU Weatherhead School of Management won the Best Presentation Award at the 2017 Trading Technologies (TT) Algo Showcase Competition.
The competition, according to TT CampusConnect Manager Leo Murphy, is part of a larger event that served to "to familiarize students with career opportunities in the Chicago futures and options industry via introductions to several prominent trading firms."
CWRU students Zedi Li, Chaojun Li, Tianzong Wang, Yunjing Zhan and Sonal Gupta designed an algorithm (algo) that optimized trading strategies for both volatile and calm days during the whole month of November. Then they created a display describing their technique to design the algorithm and the lessons they learned from the contest. In January, three members of the group—Zhan, Chaojun Li and Zedi Li—presented their ideas to a panel of experts from prominent Chicago trading companies.
Murphy said the judges based their rating "on the design of their algorithm, the risk-adjusted returns and the student presentations." Ben McKenna, a representative from League Trading. LLC., said he looked for pedigree, presentation, personality and performance. He said presentation "is important as it may be an indication of how [the students] fit into a firm's culture." McKenna added that the CWRU students' "presentation and command of their algo was impressive."
The team from Weatherhead defeated groups of students from the Illinois Institute of Technology, Indiana University, Johns Hopkins University and the University of Wisconsin.
Despite the award, it was not all smooth sailing for CWRU during the competition. Zedi Li, the team leader, said that the first day of trading was "nearly a total mess" because the algo didn't function as expected. He continued, "It was really frustrating, but we quickly got together that very night to seek out where the problem was and how to fix it. We basically overthrew our whole design and stayed up very late that night."
Zedi Li was very proud of his team for winning the award. He said, "I am very pleased with this result because it proved our presentation's logical structure and our ability to clarify complex information to the audience. I believe it is a crucial ability in the financial industry. Also, as international students, to win the best presentation prize among native speakers is really a special honor for us."
The main purpose of the competition was not victory, however. It was to hone students' trading skills in order to secure a job in the future. Murphy said the experience "mirrored that of a professional trader."
Zedi Li agreed, saying, "This competition was definitely a good chance for me to get familiar with real trading techniques and knowledge, and also a perfect experience for my future career."
As for the job aspect, the CWRU students shouldn't have to worry too much. After meeting a few of the students on the team, McKenna felt they would "do very well in whichever path they choose in life."
About the Writer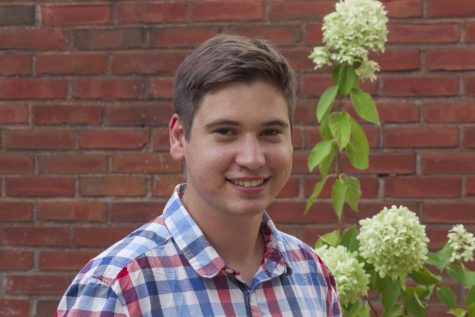 Eddie Kerekes, Executive Editor
Eddie Kerekes is in his fourth year studying chemical engineering while also pursuing a minor in German. He serves as the executive editor. Previous roles...