"I May Destroy You": The HBO series about consent we should all be watching
Streaming recommendation of the week 9/4/20
Trigger Warning: Sexual assault, rape. 
Scrolling through HBO one day, looking for something new to watch, I was pleasantly surprised to come across "I May Destroy You," a new BBC series written by and starring the phenomenal British-Ghanian screenwriter Michaela Coel. As a huge fan of her sitcom, "Chewing Gum," about one religious 24-year-old's quest to lose her virginity, and familiar with her more serious transcontinental drama, "Black Earth Rising," which explored the consequences of the Rwandan genocide from the perspective of an adopted survivor, I expected great things from this show. 
It is safe to say that "I May Destroy You" smashed every expectation. Coel seamlessly blends humor and painfully realistic depictions of trauma to explore consent, race and friendship in the messy world of millennial hedonism. Coel's acute and tender writing easily makes it one of the best dramas of the year. 
The series follows Arabella, an up-and-coming writer, as she recollects the pieces of her life after being drugged and raped at a bar in London. She leans on her best friends, Terry and Kwame, for emotional support, and with a new perspective, reevaluates the relationships she has with friends, family and her career. 
One would think that no TV writer could approach such heavy content with comedy, but Coel owns her story by re-telling it from in a voice that's uniquely hers—nuanced and empathetic, yet powerful and unflinchingly funny. 
That's right, the show is based on Coel's own experience with sexual assault. The same way Arbella's character attempts to heal her trauma through writing, Coel repackages hers into this wide-spanning series that reveals the complex, painful journey of recovering from sexual assault through creative processes and intense introspection. The result is an unsettling, groundbreaking project that will rightfully leave you questioning the way society treats women and especially Black women.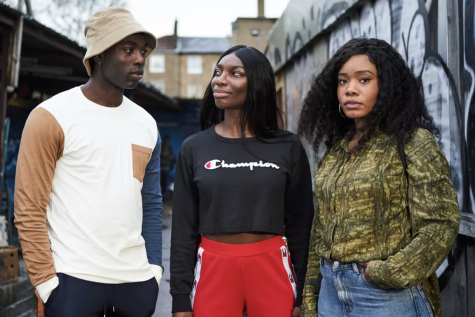 Tying this show together is a cast of unapologetically Black characters, whose own moral quandaries we see explored across different episodes. Pleasure-seeking Kwame struggles with meaningful romantic connections after endless Grindr exploits, and Terry is an aspiring actress that still struggles to be seen or heard, even in her sisterhood with Arabella. 
Examining the intersections of racism and sexuality in a supposedly post-racial society, certain scenes beg certain questions: What is it like to be queer and African? Where does preference turn into stereotypes and fetish? What is consent and what isn't? Therein each episode lies a clear answer, but Coel would also much rather leave us to endure disquieting visual cues and open endings that force us to wonder, "What would I do in this situation?" and "What should I do?"
While most of us crumble in fear when faced with moral ambiguity, Coel stands up, and with a voice that speaks from experience, points out the hazy line that separates right from wrong. This project came just at the right time. On the eve of global racial unrest and at the peak of an era of survivors ending their silence—a movement affecting our own campus here at Case Western Reserve University—"I May Destroy You" is a revolutionary must-watch.