Tumultuous opening week kicks off exciting MLB season
The 2018 Major League Baseball (MLB) season started with a bang last Thursday in Miami as the Chicago Cubs' Ian Happ launched the first pitch thrown by the Miami Marlins' Jose Urena into the right field bleachers for a lead-off home run.
With several high-profile trades and signings highlighted the offseason, baseball fans are expecting a competitive and flashy regular season. With dominating pitching performances, dazzling inside-the-park home-runs, and already 10 walk-off or extra-inning endings so far, this season has proved exactly such.
In the high-performing American League East, all eyes were focused on the New York Yankees' newest star-slugger Giancarlo Stanton, who is expected to lead the league in home-runs in exchange for the largest contract in baseball history worth over $300 million. Stanton showed his worth on Opening Day by crushing two home runs against the Toronto Blue Jays in Rogers Centre. However, in his Yankee Stadium debut on Tuesday, he struck out in all five of his at-bats, earning him a chorus of boos from the demanding New York fans.
Even though Stanton is off to a slow start (by his standards), he is protected by an extremely dangerous Yankee lineup that includes young stars Gary Sanchez, Aaron Judge and Didi Gregorius. While Stanton suffered in snowy New York conditions, Gregorius went 4-for-4 with two home runs and eight RBIs, leading the Yankees to an 11-4 victory against the Tampa Bay Rays. This high-powered offense, combined with a flame-throwing bullpen combination of Dellin Betances and Aroldis Chapman, makes the Yankees the favorite to win the division.
However, the Yankees will have to hold-off the similarly-strong Boston Red Sox, whose pitching staff leads baseball in ERA thus far. Although Boston's offense, led by newly-signed J.D. Martinez, hasn't quite heated up yet, their starting pitching has earned them the second best record in the league. Whether they can keep up with the Yankees is uncertain, but they are expected to take the first American League wild-card spot.
In the American League West, the spotlight is on Japanese superstar Shohei Ohtani, who was signed as both a pitcher and designated hitter for the Los Angeles Angels. Although his MLB debut as a batter was on Monday, spectators were most interested on his starting pitching debut on Sunday against the Oakland Athletics, particularly due to his struggles as a pitcher during spring training. Although Ohtani had one shaky inning in the second when he gave up a three-run home run to the Athletics' Matt Chapman, he was strong in the rest of the outing and finished with six strikeouts in six innings to earn the win. Ohtani later showed off his bat in his first game back home at Angels Stadium, where he hit a three-run home run off the Cleveland Indians' Josh Tomlin.
Although the Angels will benefit from Ohtani supplementing superstars Andrelton Simmons and Mike Trout, they are not expected to keep up with the World Series champion Houston Astros. Led by a young dynamic core of Jose Altuve, Carlos Correa, George Springer and Alex Bregman, the Astros are set to potentially become a dynasty for the next few years. With the addition of former Pittsburgh Pirates ace Gerrit Cole, the Astros are even stronger than last year, and are once again considered favorites for the World Series. Cole dominated in his first start for Houston, picking up 11 strikeouts over seven innings against the Texas Rangers on Sunday.
In the National League, all of the division leaders from last season are expected to repeat. The Washington Nationals, Cubs and Los Angeles Dodgers all either stayed constant or improved slightly, with the most noteworthy acquisition being starting pitcher Yu Darvish, who moved from the Dodgers to the Cubs.
However, an interesting storyline to watch will be the NL Wild Card race. Last year, both Wild Card representatives, the Arizona Diamondbacks and the Colorado Rockies, came from the NL West. However, several teams have bolstered their lineups with trades and free-agent signings. The San Francisco Giants acquired Evan Longoria from Tampa Bay and Andrew McCutchen from the Pittsburgh Pirates, the St. Louis Cardinals acquired Marcell Ozuna from the Miami Marlins and the Milwaukee Brewers acquired Lorenzo Cain from the Kansas City Royals. All five of these teams have the potential to make a late-season run, so given that there are only two Wild Card spots, expect a very tight race in August.
Shounak's MLB picks:
AL East: New York Yankees
AL Central: Cleveland Indians
AL West: Houston Astros
Wildcard 1: Boston Red Sox
Wildcard 2: Los Angeles Angels
NL East: Washington Nationals
NL Central: Chicago Cubs
NL West: Los Angeles Dodgers
Wildcard 1: Arizona Diamondbacks
Wildcard 2: Milwaukee Brewers
Leave a Comment
About the Writer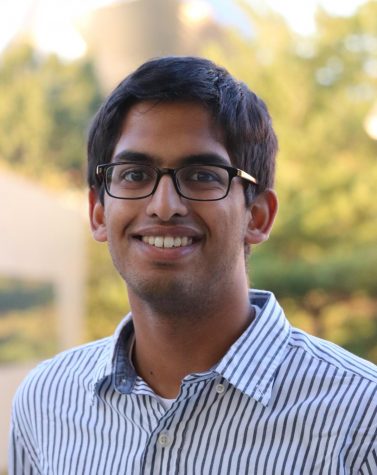 Shounak Bose, Web Editor
Shounak is a fourth-year biomedical engineer and is the web editor for The Observer. He is also a brother of the Delta Chi Fraternity, and is involved...