Two players hit career scoring highs, men's basketball continues skid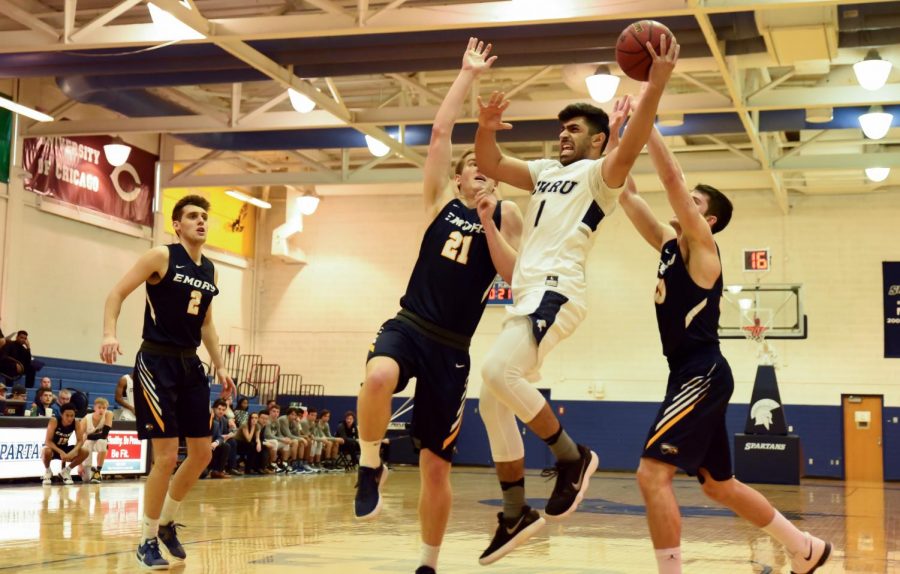 Sanjay Annigeri, Staff Reporter
February 22, 2019
The Case Western Reserve University men's basketball team continued its rough patch in their University Athletic Association (UAA) schedule, losing 83-71 to Emory University on Friday, Feb. 15 and 68-62 to No. 22 University of Rochester on Sunday, Feb. 17. Both games were played at home in the Horsburgh Gymnasium. Even with these losses, two players set career highs in scoring, with first-year guard Jack Vaselaney scoring 17 points off the bench against Emory and second-year guard Michael Volkening scoring 22 points against Rochester.
The bench helped CWRU stay in the game against Emory, but its contributions weren't enough to garner the win.
The Spartans were down as much as 17 points in the first half but were able to trim the halftime lead to seven with three pointers by Vaselaney and second-year guard Antonio Ionadi. The team went into halftime down 39-32.
In the second half, CWRU cut the lead down to 50-48 with over 14 minutes left in the game on a three point play by third-year forward Michael Hollis.
Vaselaney gave the team its first lead since the start of the first half with a three pointer to put the Spartans ahead 55-53.
However, Emory went on a 7-0 run with under 10 minutes left in the game and built the lead up to 13 points. Vaselaney trimmed the lead to seven with under two minutes left, but the Spartans were unable to mount a final comeback.
Against Rochester, both teams fought back-and-forth but a late push by Rochester gave them the victory.
The Yellowjackets scored the first five points of the game until the Spartans went on a 13-2 run to give them an eight point lead.
Rochester cut into the lead and went ahead 25-24 with under five minutes left in the half. They continued and went on an 8-4 run to take a 33-28 lead into halftime.
Volkening started the second half with a three pointer and a layup to tie the score at 33. The Yellowjackets answered this by building a 10 point lead with under 10 minutes left in the game.
The Spartans wouldn't back down though, going on a 10-0 run in a span of just under a minute and 30 seconds to tie the game at 51.
CWRU regained the lead 55-54 with under five minutes left on free throws by Ionadi.
Rochester hit back-to-back layups and the Spartans responded with layups by Ionadi and Hollis.
The score became tied at 60 with under two minutes left, but Rochester went on a 6-0 run to secure the victory.
The Spartans finished the week with two losses, bringing their overall season record to 9-15 and their UAA record to 2-11.
The team will close out the season with a rivalry matchup at home against Carnegie Mellon University on Saturday, Feb. 23 at 4 p.m.
"We need to keep competing and guarding to stay in the game," Head Coach Todd McGuinness said. "We need to make our open looks."