"Unapologetically" is a country dream
Kelsea Ballerini's stellar sophomore album
Kelsea Ballerini's second album "Unapologetically" elevates Ballerini to country queen royalty among the likes of Carrie Underwood or Miranda Lambert. Of course, that's completely my opinionーthere's no ranking for these thingsーbut just listen to "Miss Me More" and try to deny that this anthem of badass independence and self-love doesn't sound similar in caliber to those famous female country singers before her.
Many compare Ballerini to the old Taylor Swift—you know, the one who's dead—and I think Ballerini is even better: voice, lyrics, musicality and all. The similarity at the root is the way Ballerini is a type of country just on the cusp of pop. So for all you original Swift fans, let "Unapologetically" fit the hole her tragic evolution has left in your heart. While you're at it, let it fill the hole in your heart that the male-heavy genre has left as well.
In fact, Ballerini often goes right up against all the stereotypes that are prolific in songs by male country artists, such the country boy that can charm any city girl into going country, or the idyllic picture of a wife that cooks dinner. "Miss Me More" lyrics attack a controlling significant other: "I retired my red lipstick 'cause you said you didn't like it / I didn't wear my high heel shoes / 'Cause I couldn't be taller than you."
Ballerini discusses pursuing her own dreams again, which is echoed in "High School": "He's still calling that first love, first time, pretty-eyed blonde / And she's still letting it ring 'cause his ring isn't what she wants / 'Cause she traded in prom queen for a big city dream."
"High School" perfectly captures the character of a high school quarterback who peaked in highschool.
The album has everything that makes country incredible: raw vocals and storytelling lyrics that suck you into feeling everything, from love to self-assuredness to melancholy and nostalgia.
Kelsea Ballerini's album may also be classified as singer-songwriter, as she delves deep into emotions to craft each song so that each sounds like it's own story with a beginning, middle and end. Even the album itself feels like a cohesive narrative, starting from dealing with the loss from a new breakup and slowly building into the ecstasy of a new love.
"End of the World" is evidence of this transition, and is my favorite track on the album. By the end of the album, Ballerini is singing about a love feeling like music ("Music") and, however past-tense, a narrative of an undefeatable couple on "Legends": "Loving you, baby, it was heaven / What everyone wondered, we'd never question / Close our eyes and took on the world together."
Ballerini delivers on everything anyone could want out of a female country artist's sophomore album. "Unapologetically", while still consistent to the country genre in sound, really pushes the envelope with her lyrics.
Lyrically alone, this album deserves a listen.
Album: "Unapologetically"
Artist: Kelsea Ballerini
Release: Nov. 3
Rating: 4/5
About the Writer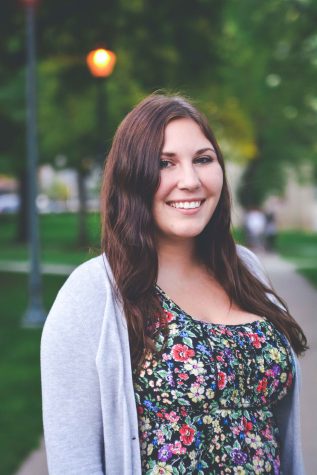 Alex Clarke, Arts & Entertainment Editor
Alex Clarke is a senior with majors in english and psychology and a minor in marketing. She also writes for Trill Mag, wrote for McClatchy newspapers for...