Unfinished Business
Football hoping for playoff run following last year's turnaround
Coming within one win of a conference title a year after only managing four wins, the Spartans football team has high expectations coming into the 2016 season. Losses in the program's final two games left a bitter taste in the team's mouth and has them hungry for the chance at post-season play.
After a heartbreaking one-point loss to start the season, Case Western Reserve University reeled off seven straight wins. They dominated their competition during the streak, winning by an average margin of 25 points. It set up a showdown with Thomas More College with the winner earning at least a share of the Presidents' Athletic Conference (PAC) title.
CWRU lost that contest—a thrilling four-point affair—and the following one, as well, to rival Carnegie Mellon University (CMU), denying them a shot at the University Athletic Association (UAA) title. The Spartans, who were ranked as high as 18th, finished the season at 7-3. They went 6-2 in the PAC, tying them for third, and 1-2 in the UAA.
CWRU was so successful because their offense was one of the best in the country. The unit ranked 29th among all NCAA Division III teams with 38.7 points per game and 32nd with 468.4 yards per contest. It was the Spartans' highest points per game average since their 2009 playoff run.
The offense will be led by third-year quarterback Rob Cuda. He broke out in 2015, leading the team in both passing (2,631 yards) and rushing (715 yards). Cuda's dual-threat nature will be tough for other teams to defend against. In addition to scrambling on broken plays, offensive coordinator Dereck Slesh likes to mix in designed runs for the quarterback.
Cuda is very effective with the ball as well. He completed 59.9 percent of his passes last season and had a 28 to five touchdown to interception ratio. Incredibly he did not throw his first interception until the Spartans eighth game last season. Cuda's accuracy, as well as his big-play ability, led Head Coach Greg Debeljak to call him "one of the best football players in the country."
With wide receiver Bryan Erb's graduation, Cuda will need a new favorite target. Erb led the team with 856 receiving yards and 13 touchdowns. Fourth-year wide receiver Brendan Lynch will probably be his first choice. Lynch caught 42 passes last season for 330 yards. He also found the end zone once.
Another choice could be fourth-year captain Zech Medved. The tight end, who was also a captain last season, had 18 receptions for 303 yards and three touchdowns in 2015. The Spartans used graduated tight end, Ethan Albers, a lot near the end zone (five touchdowns), so look for them to use Medved in a similar way. Third-year fullback Jacob Burke could be an interesting target out of the backfield as well.
Protecting Cuda and blocking for third-year running backs Myles Anthony and Jeffrie Brown Jr. will be an experienced and deep offensive line. One of the keys to the Spartans' offensive success last season, the line is returning four of five starters. Leading the charge will be a trio of third-years: center Gage Blair, guard Ryan DeMarinis and tackle Ryan Merlau. Joining them will be fourth-year students Dante Capicchioni (guard) and Nate Lewis (tackle).
The Spartans' defense was strong last year as well, limiting opponents to 22.4 points and 343.6 yards per game. However, there will be a lot of new faces as seven of the unit's 11 starters graduated.
Three key returning players are cornerback Nick Kwon, fourth-year linebacker Zach Lyon, and third-year safety Cody Calhoun. Kwon and Calhoun will patrol the secondary for the Spartans as they look to improve upon their six combined interceptions from a season ago. Both players also help a lot in the run game as each totaled 48 tackles a season ago.
Lyon will lead a linebacking rotation that, despite returning only one starter, will have a lot of experience. Fellow fourth-year Tim Briercheck returns after missing all of last season because of injury. Third-years Andrew Banathy and Justin McMahon both played in all 10 games last season and recorded at least 25 tackles.
Up front, the Spartans lost all three starters and will have to rely on fresh faces to disrupt the opponents' run game. Fourth-year Tyler Doty and third-year Jason Lockamy are the two only returning players who recorded at least 10 tackles last season. Debeljak told the Athletics Department, "The defensive line is our biggest question mark, if only for the lack of experience at the position."
To start the season, CWRU will be hosting the University of Chicago Maroons at DiSanto Field. Last year the Spartans suffered a devastating 31-30 loss in Chicago and will be hoping to avenge the loss at home. All-time CWRU has a 12-14 record against the Maroons. The good news for Spartans fans is their team has won eight of the last 12 meetings between the schools.
The Maroons' offensive attack will be tough to defend against. Fourth-year quarterback Burke Moser will be returning after a record-setting 2015. He set the Maroons' completion percentage record and tied the record for most touchdown passes in a season. He also tossed the second-most passing yards in Maroons history.
Third-year running back Chandler Carroll will also pose a challenge to the young Spartans defense. Carroll broke the 1,000-yard mark last season and set the single-game Chicago record for rushing yards in a game with 311. Last season against CWRU, he ran for 70 yards on 17 attempts.
The Spartans will look to attack the Maroons' secondary that lost three of its four starters to graduation. The only returning starter, second-year safety Jeremy Vincent, won UAA Rookie of the Year honors last season.
Important matchups for the Spartans this season include the aforementioned game versus the University of Chicago Maroons, the Nov. 5 game at Westminster College, and, of course, the season finale versus rival CMU on Nov. 12. Both Westminster and CMU received votes in the pre-season poll, as did CWRU, but neither cracked the top 25.
Following tradition, The Observer will be predicting the scores of every game. We use a simple formula that adjusts teams' points per game by looking at how many yards their net yardage totals. If the final score for both teams is within seven points of our prediction, we consider that a victory. Last season, we went 4-6 and the year before that finished 5-5. However, we correctly predicted the winning side eight times last season.
For the opening game of the season, we are using data from 2015, so the prediction may not be as accurate. The machine spits out a final score of 38-28 in favor of the hosting Spartans. Look for a close game, but for CWRU to pull away in the fourth quarter and fans to go home happy.
Leave a Comment
About the Contributor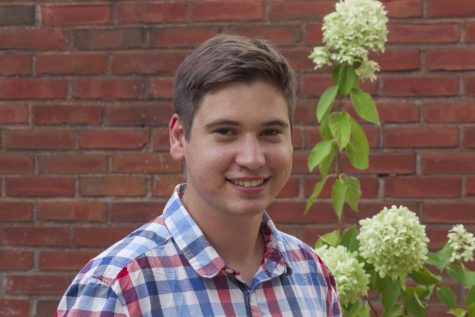 Eddie Kerekes, Executive Editor
Eddie Kerekes is in his fourth year studying chemical engineering while also pursuing a minor in German. He serves as the executive editor. Previous roles...