Unused meal swipes turned into donations to homeless
The Food Recovery Network (FRN) is a student group on campus dedicated to fighting waste and feeding people. Through a partnership between the FRN and companies around University Circle like Einstein Bros and Panera Bread, over 200 pounds of perfectly good food, which would have otherwise been thrown away, is donated weekly to local soup kitchens like Saint Matthew's HOPE Soup Kitchen. The group now hopes to increase their donations to soup kitchens by collecting unused meal swipes.
According second-year student Naveen Rehman, the group's network coordinator, the idea to donate unused meal swipes came from a National FRN dialogue during the first week of April. In a breakout session during the dialogue, another campus group mentioned their involvement with Swipe Out Hunger, a movement that aims to use otherwise unused meal swipes to help feed the homeless.
While the process is still being planned, FRN members have a general idea of how they expect the initiative to work: A student with unused meal swipes can go to the FRN on campus and donate the swipes to the group, and the university will offer a monetary value per donated swipe. The FRN will then take the money collected from the donated meal swipes and distribute it to their soup kitchen partners.
According to Naveen, the value of each meal swipe is currently unknown and is something the group will have to negotiate with the university and with Bon Appétit. The three groups will also discuss a limit for the number of meal swipes they can receive.
So far, FRN has published a survey to gauge interest in this initiative, which Naveen said has already had a larger response than the group was expecting. The respondents are overwhelmingly in favor of the idea of being able to donate their unused meal swipes.
Moving forward, the FRN members are looking to customize the idea for the CWRU campus before they pitch it to the Regional District Manager for Bon Appeétit, Jim O'Brien, and the university.
Ideally, Naveen said, the FRN would like to see their plans become reality by the end of next semester. "We have a vision with where we want to go with this," she said in an interview. "It's just taking it step-by-step, very slowly."
The FRN has volunteer positions available to assist with collecting food from Einstein Bros. and Panera. Individuals interested in helping can visit frn.case.edu or email frnexec@case.edu for more information.
About the Contributor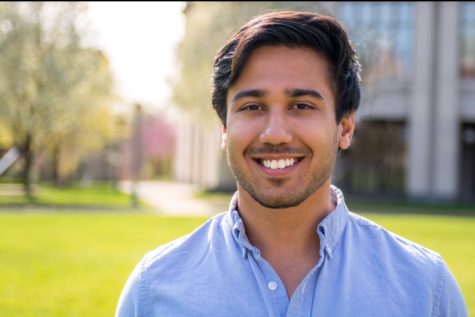 Anmol Nigam, Photography Editor
"Over-ripe sushi,
The Master
Is full of regret."

- Yosa Buson

You can contact him at axn236@case.edu.