UPB announces "Trick or Trap"
Fall Concert will feature A$AP Ferg and 3Lau
On Oct. 28, the University Program Board (UPB) will be once again hosting the fall semester concert, now called "Trick or Trap." Featuring A$AP Ferg and 3Lau, "Trick or Trap" is exclusive for Case Western Reserve University students, staff and faculty. While undergraduate students will be able to reserve tickets for free, graduate students, staff and faculty will have to pay $10 per ticket.
Because of the artists involved, "Trick or Trap" promises a variety of music to enjoy. A$AP Ferg, a member of hip-hop group A$AP Mob, is a rapper and hip hop artist who is known for his solo work but particularly his collaborations with artists such as French Montana, Snoop Dogg, A$AP Rocky and Meek Mill. EDM artist 3Lau will also be featured, bringing his remixes of popular songs and his melodic take on house music to the CWRU community.
"We look at what genres we're bringing to campus for our concerts at Jolly and try to pick something different," said Mena Vij, president of UPB.
With a date so close to Oct. 31, "Trick or Trap" will be Halloween-themed, and students are encouraged to come in costume, with a few caveats for safety: They cannot involve weapons, masks or backpacks.
The concert itself won't be the only exciting part. According Vij, the organization has "some super crazy, unconventional promo ideas, so watch out for UPB members maybe doing something on campus before the show with some free stuff."
"Trick or Trap" will take place on Oct. 28 at Veale Convocation, Recreation and Athletic Center with doors opening at 8 p.m., 3Lau at 9 p.m. and A$AP Ferg at 10 p.m. Tickets go on sale online Oct. 18. For the most recent updates, check out the UPB and UPBeats' Facebook pages.
Leave a Comment
About the Writer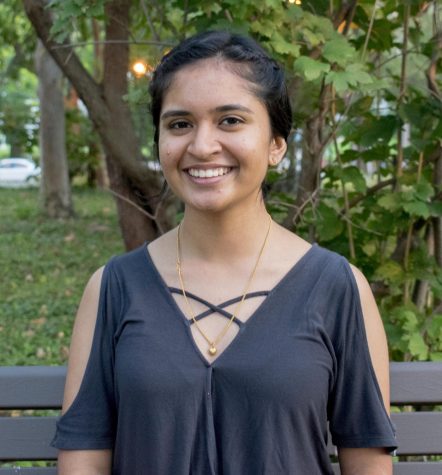 Smruthi Maganti, Arts and Entertainment Editor
Smruthi Maganti is a third-year student studying biology with a minor in public policy. After a year of copy editing, this is her first year as the A&E...