UPB hosts "Black Panther" advanced premiere
High ticket demand leads to website crash
Marvel's "Black Panther" is one of the season's most highly awaited films, and Case Western Reserve University's University Program Board (UPB) organized an advanced screening exclusively for students the night before the premiere, on Feb. 15.
UPB's Off-Campus committee began planning the event at the end of the fall 2017 semester. Having decided to host a movie screening, they only decided on "Black Panther" in late November.  
"Over winter break, our committee reached out to Regal Cinemas in Tower City and asked them if we could book an entire movie theater for a screening of Black Panther for CWRU undergraduate students and they agreed to give us a pre-screening, and we signed a contract for it in January," wrote Vanessa Chen, director of the Off-Campus Committee, in an email.
Although the event was announced weeks ago, the tickets themselves went on sale on Feb. 10 at 10 a.m. Each student was allowed to purchase one ticket. 291 tickets were available to CWRU students, and within two hours, they had all sold out. 52 people chose the waitlist, hoping for a chance to get tickets.
However, at just about 10 a.m., the ticketing website crashed, causing a lot of confusion for prospective attendees. In an email to ticket holders sent on Feb. 11, Shiori Heima, a co-chair on the Off-Campus Committee, acknowledged the event.
"We also wanted to apologize for the confusion the ticketing site crash caused for some people and wanted to thank you for your understanding," Heima said.   
According to Chen, the crash likely happened because a large number of people logged onto the campus ticket website in the minute between 9:59 and 10 a.m. However, UPB believes all the people who were kicked off the website by the crash were able to get tickets.
"I think our committee did anticipate selling out the event, but we did not anticipate the event selling out as quickly as it did. I thought that ticket sales would run for a bit longer than two hours, maybe closer to four hours," Chen said.
"Black Panther" itself is a historic movie for both Marvel Entertainment and Hollywood overall. Starring Chadwick Boseman as the titular character, the film tells the story of T'Challa (Boseman) returning home to find his claim to the throne of Wakanda challenged by a long-time adversary (Michael B. Jordan). The film features an ensemble cast and is directed by Ryan Coogler.
UPB's advance screening is happening on Feb. 15 at Tower City Cinemas at 7 p.m.
Leave a Comment
About the Writer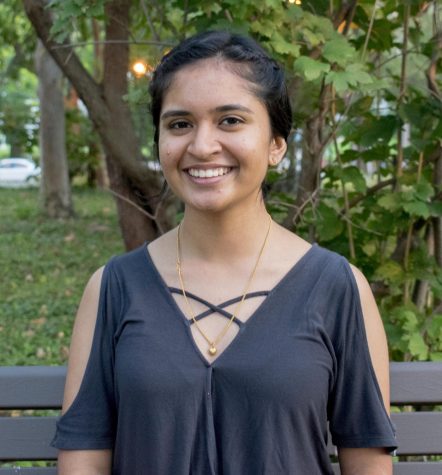 Smruthi Maganti, Arts and Entertainment Editor
Smruthi Maganti is a third-year student studying biology with a minor in public policy. After a year of copy editing, this is her first year as the A&E...