A look at this week's upcoming concerts
Every week in Cleveland is a week to see live music. But, like any other week, it's difficult to see them all; dozens more of Cleveland's concerts are just waiting to be experienced.
Here are five upcoming shows, featuring a range of bands, venues and prices:
Date: Sept. 12, 6:30 p.m.
Band: Hippo Campus/American Wrestlers/Diverge
Venue: Grog Shop
Price: $10-12
It took a second to figure out that "Hippo Campus," an indie band, isn't referring to a college for hippos. It's like "hippocampus," the part of the brain that takes care of memory (duh). And their unique, summery blend of indie pop, along with their adorable onstage joy, will be something to remember long after their Saturday night show.
Date: Sept. 13, 6:30 p.m.
Band: Buckcherry/Saving Abel
Venue: The Agora
Price: $25-30
Buckcherry isn't for everyone. Their whole butt-rock vibes are either beloved or hated, like Nickelback (when they were popular, that is). There's nobody saying "Buckcherry, they're okay." No. When you put out a song like "Crazy Bitch" there is no middle ground. But for those who love the band, this show will be a hit. Apologies to everyone else.
Date: Sept. 15, 7 p.m.
Band: Stone Temple Pilots
Venue: House of Blues
Price: $37.50-$49.50
Stone Temple Pilots are pretty beloved, but after Scott Weiland's departure, they're not the STP that we knew and loved. Even with no Weiland, the group gained favor with the addition of previous Linkin Park singer Chester Bennington. It'll take them "one step closer" to the hearts of their fans. Get it? Because "One Step Closer" is a Linkin Park song. Sorry again.
Date: Sept. 17, 9 p.m.
Band: Best Coast/The Lovely Bad Things
Venue: Beachland Ballroom (presented by the Grog Shop)
Price: $20-25
Ohio is in the midwest, meaning that there is no coast—that is, unless you count Lake Erie, which is questionable. Instead of arguing about geography, how about you enjoy Best Coast's faraway, laid-back rock at their upcoming Beachland Ballroom show?
Date: Sept. 17, 7 p.m.
Band: Wilco/William Tyler
Venue: Masonic Auditorium
Price: $32.50-$71
Break out your greatest hipster outfit and top if off with a cowboy hat for Wilco's upcoming show. It's entirely possible the show will sell out, but as of press time, there were still some reasonably priced tickets available. Grab 'em while they're hot.
About the Contributor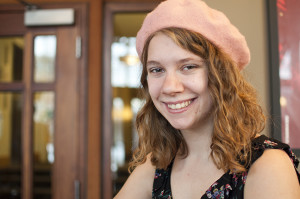 Anne Nickoloff, Director of Print
Anne Nickoloff, the Director of Print for The Observer, is a senior at Case Western. She hopes to one day be a music journalist, and has spent much of...