USG Election Guide 2017: Andrés Pérez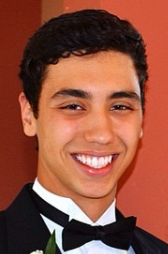 Name: Andrés Pérez
Year: Third-year
Major: Finance & International Business
Running for: Chief Judicial Officer
Relevant experience: My campus involvement has allowed me to experience most of what CWRU has to offer. I promoted inclusivity as a school captain with Spartans for Special Olympics. I have fostered a love for civic engagement and community involvement through the Center for Civic Engagement and Learning (CCEL) Scholars Program and Greek Life. I learned the importance of teamwork and responsibility through the Case Rugby Football Club and work as an intramural supervisor. And finally, I have gained executive board experience as the Treasurer for Case College Republicans.
What are your plans for this position?
I plan on bringing a renewed sense of transparency and accountability towards USG. I will work with the Vice President of Information Technology to reintroduce Undergraduate Student Government's live stream broadcast of its open assemblies. I look forward to being a fair arbiter and advocate to all students, organizations, and USG representatives.
What are your plans for enforcing USG bylaws?
I will work closely with the current Chief Judicial Officer to see how cases of constitutional ambiguity have been interpreted. I believe that consistency and precedent are keep pillars to a sound judiciary.
What bylaws, if any, do you think need changing?
I would lead the judicial board in administering a serious audit into USG's attendance bylaws. Attendance has been an issue in the past. We must address the current requirements, or work with representatives to explore alternatives when schedules prove to be unmanageable.