Volleyball prepares for home stretch
The Case Western Reserve University volleyball team currently sits at 17-10 after a 2-2 performance at the final University Athletic Association (UAA) Round Robin and two wins at Ohio Wesleyan University.
During the weekend of Oct. 13 and 14, the Spartans traveled to Carnegie Mellon University (CMU) for the second of two UAA Round Robins to compete against the four teams CWRU had not yet played.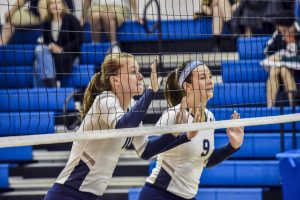 Their first match ended in a four-set victory for the team against New York University. Third-year outside hitter Karley King dominated the floor with 23 kills and a .358 kill percentage. Second-year libero Anna Jaskoviak paced the team with 26 digs. Second-year right side hitter Jana Giaquinto played well on both the offensive and defensive ends, recording six kills and 15 digs.
In their second contest of the first day of action the Spartans fell in three straight sets to Emory University. CWRU did not bring their best performance in this match. They only managed 24 total kills and had 20 hitting errors. First-year outside hitter Lauren Carmon led the team with eight kills.
On the second day CWRU played the host team, CMU, losing in four sets. Statistically, the team performed much better in this match, finishing with 46 kills and only 12 errors. But CMU proved too much to handle. King had 12 kills in this match and second-year middle blocker Katie Kaminski collected 11 kills on a .500 kill percentage.
Ending the weekend on a high note, the Spartans routed University of Rochester in three sets. Rochester could not compete on the same level as CWRU; the most points they scored in a set was 16. The offensive attack for the Spartans was well balanced, with five players recording at least five kills. It was a great way to finish the weekend.
"I thought the team played hard all the way through the weekend," Head Coach Karen Farrell said. "It is grueling mentally and physically to play four matches against tough competition where every result is so critical and I thought we handled that challenge exceptionally well."
The Spartans finished UAA play with a 3-4 record.
CWRU won two matches when they traveled to Ohio Wesleyan on Oct. 20. Against Allegheny College the Spartans won easily in three straight sets. Later, they beat Ohio Wesleyan in four sets. In this match, Kaminski and King dominated on offense, with 18 and 17 kills, respectively.
After losing to Hiram College on Oct. 24 on Senior Night, the Spartans will close out the regular season on Oct. 27 at The College of Wooster. They will compete in the UAA Championships, where the winner will receive an automatic entrance to the NCAA Tournament.
According to Farrell, the team still needs to improve on their serve-receive abilities and efficacy on offense in order to perform well at the UAA Championships. Those will take place on Nov. 2 and 3.