What am I listening to? 12/6/19
Saving Grace—Todd Rundgren
Todd Rundgren made his name as one of the first auteurs in rock in the early 1970s. On his third studio album, "Something/Anything?" he produced and wrote every song and played all the instruments on 18 of the 25 songs. On "Something/Anything?" and its follow-up, "A Wizard, a True Star," Rundgren's do-it-yourself approach masterfully blends piano-based pop with space-age electronica (there's a reason Frank Ocean used Rundgren's synth sounds on "Blonde"). "Saving Grace" is a favorite off this album, with a distorted electronic voice kicking off one of Rundgren's most earnest and endearing ballads with a chorus perfect for carpool karaoke.
Yemayá—Daymé Arocena
Daymé Arocena is one of the best artists alive. Her 2016 album "Cubafonía" is a tribute to the rhythms of her home country, while her most recent, 2019's "Sonocardiogram," blend those same sounds of Cuba with the London electronic music of her label Brownswood Recordings. Yemayá, named after a Santería water deity, soars up to the sky like a prayer. It is a work that shows how Arocena is changing an artist while still holding on to her roots.
Plastic 100°C—Sampha
Sampha's debut album "Process" is about grief that deals with losing his parents to cancer, the increasing distance between him and his brother and, as "Plastic 100°C" focuses on, the discovery of a lump on his throat. Sampha uses audio clips from Neil Armstrong during Apollo missions to show how these traumas and his increasing fame have isolated him from the people he cares about. His production is stunning, using a wide array of synth patches and string instruments.  
Desert Kisses—Siouxsie and the Banshees
Siouxsie and the Banshees create an instantly recognizable sound of brooding danger, and "Desert Kisses" is one of the best examples of their signature sound. Much of this is due to Siouxsie Sioux's poetic songwriting, with cryptic lines like "trapped again in still life motion" that create unease. John McGeoch's piercing guitar cuts through synths and Steven Severin's growling bassline.
The Nightfly—Donald Fagen
If this were an honest list, it would be made up solely of tracks from Donald Fagen's 1982 album "The Nightfly." My roommate and I have played this album at my apartment so often that it would be considered torture if it wasn't so good. I've done radio since high school, so I can relate to Fagen's character in the title track. Using a seven-second delay, check, talking to weird callers at weirder hours, check, using music to cope with sadness, also check.  
No One Lives Forever—Oingo Boingo
Danny Elfman might be known for writing the score for every Tim Burton movie, but he used to be one of the most charismatic unique frontmen in the 1980s New Wave scene. Oingo Boingo is party music with wit, blessed with a horn section and Elfman's wildman persona. "No One Lives Forever" is about throwing away your anxieties to enjoy the moment, striking a mood that is fun featuring bright horns and an upbeat groove, with a touch of eerie fear mixed in through menacing breakdowns. "Have a toast, down the cup/Drink to bones that turn to dust."
About the Writer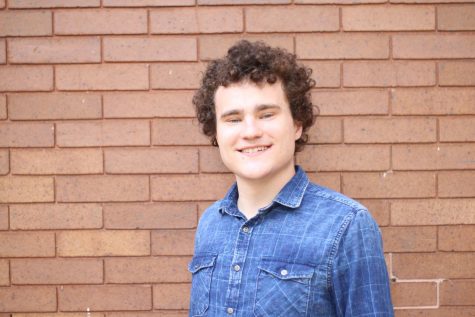 Matt Hooke, Executive Editor
Matt Hooke, The Observer's executive editor, is a fourth-year student studying English. This is his first year as executive editor after spending time...