What to do this weekend April 14 – 16
Friday, April 14
Jolly Scholar 3rd Annual Spelling Bee: 10 p.m. – 2 a.m. at Jolly Scholar. 10 p.m. – 12 a.m.: Opening ceremonies begin (all drinks $1 off for the two hours). 12 a.m. – 1 a.m.: The Spelling Bee. You will be asked to spell names of candy bars, fancy brewery names, Facebook friends' names, athletes' names, foods that start with the letter Q, etc. Everybody that participates will win a prize.
Aliens with Extraordinary Skills : Eldred Main Stage's production of Aliens with Extraordinary Skills, by Saviana Stanescu, and directed by Erik Andrews. This play contains strong adult themes and suggestive content that may not be appropriate for children. Performances are Friday, April 14 at 7:30 p.m., Saturday, April 15 at 7:30 p.m. and Sunday, April 16 at 3:00 p.m. Single ticket price: $10, Adults 60+ and Case Western Reserve University faculty/staff: $7, and Students with ID: $5.
Saturday April 15
UPBubble Soccer: 12 p.m. – 3 p.m. at Freiberger Field. Watch teams compete in a bubble soccer tournament.
World Expo: 1 p.m. – 4 p.m. at Thwing Center. The World Expo is an annual celebration of diversity and inclusion that puts the spotlight on our world's many cultures. This year there will be an exploratory tour to showcase various cultures represented at Case Western Reserve University. A wide variety of student organizations will be providing food, performing, giving out free items and hosting activities to participate in. Different classes will have extra credit sign-ins and there will be free massages from One to One Fitness. The following groups will perform at the event: Case Western Nritya, Case-in-Point, A Nickel for your Thoughts, Chinese Dragon Dancers and Rag Dolls Jazz troupe.
The Heartbeat of Africa: 5:30 p.m. – 10 p.m. at Tinkham Veale University Center. Grab your red carpet attire and join us for a night full of African music, dance, fashion and food.
"Cocktail hour" at 5:30 p.m., doors open at 6:00 p.m. and the show starts at 6:30 p.m. After Party at TOMO (1293 West 9th Street, Cleveland, OH 44113) following. Fee: $3 for Case Western Reserve University Affiliates, $5 for non-CWRU Affiliates.
The 6th Annual Easter Egg Hunting Championship at the Jolly Scholar: 10 p.m. – 2 a.m. at Jolly Scholar. Special cocktails and shots will be $3 all night. Egg Hunt starts between midnight and 1 a.m. Pastel colored clothes are preferred.
Fire Burnin' on the Dance Floor: 9 p.m. – 1 a.m. at Carlton Commons. Zeta Psi Presents: Fire Burnin' on the Dance Floor, a charity concert benefiting Camp Kesem. Live music from From Ray Flanagan, Marshall and the Molson twins and DJ Myles Smith. Food (including Chick-Fil-A), snacks and non-alcoholic drinks provided.
Sunday April 16
Easter Sunday Bluegrass Brunch: 11 a.m. –  2 p.m. at Music Box Supper Club. Doors open at 11:00 a.m. Showtime is at noon. Veteran Stalwart Bluegrass musician, Paul Kovac, brings the Grass Party to perform at this Easter Brunch show. Tickets: $10 for all ages.
About the Writer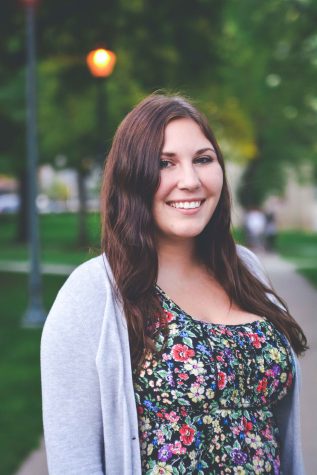 Alex Clarke, Arts & Entertainment Editor
Alex Clarke is a senior with majors in english and psychology and a minor in marketing. She also writes for Trill Mag, wrote for McClatchy newspapers for...