What to do this weekend, Sept. 9-11
Friday, Sept. 9:
MIX at CMA: Mughal—5 p.m. to 10 p.m. at the Cleveland Museum of Art. Stop by to take part in the festivities from by peeking into the centennial exhibition Art and Stories from Mughal India, listening in on talks by curator Sonya Quintanilla, grabbing a bit to eat at a pop-up restaurant featuring Indian-inspired dishes and relaxing with music and drinks in the museum's atrium. Dancers Sujata Lakhe, Gayatri Bharadwaj and Mrunmayee Kadam will teach visitors Bollywood and kathak dance moves.
Saturday, Sept. 10:
Blacklight Slide—6:15 p.m. at The Cuyahoga County Fairgrounds . Blacklight Slide is a neon glow in the dark water slip-n-slide with a deejayed after party.
UPB Movie Night—7:30 p.m. to 9:30 p.m. at Freiberger Field. The University Program Board is co-programming with Homecoming and the CWRU Film Society to show Napoleon Dynamite at Freiberger Field with food, beverages and giveaways: tots, popcorn, cold drinks and fun Homecoming swag.
Noche Latina—10 p.m. to 2 a.m. at Jolly Scholar. Four hours of the hottest Reggaeton, Bachata, Salsa, and Merengue hits.
All Access: Cleveland—7 p.m. at The Wolstein Center at Cleveland State University. Feature performances from Sia, a stand up comedian from Saturday Night Live cast member and Ghostbusters star Leslie Jones, and Grammy award-winning singer Natalia Lafourcade with Comedy Central's Jessica Williams as the host.
Star Party—9 p.m. to 11 p.m. at Cuyahoga County National Park – Ledges Shelter. Join Park Ranger Ryan Ainger and the Brunswick Astronomy Club for an evening filled exploring the great beyond of the universe. See open and globular star clusters, nebulae, galaxies and planets through the lenses of powerful telescopes at the Ledges shelter.
Marcus Alan Ward Performing at Uptown Saturday Nights Week 3—9 p.m. to midnight. Happy Dog at The Euclid Tavern.
The Third Annual NEOCycle Music Fest feat. Wild—Saturday 10 a.m. to Sunday 11 p.m. at Edgewater State Park. The nation's first and largest urban cycling festival, combines five unique races and rides with live music at The Hub at Edgewater State Park.
Sunday, Sept. 11:
Gather in Glenville—11 a.m.-5 p.m., E. 105th Street and Superior Ave. Part Community Brunch, Gospel and Soul Concert, Farmers Market and Makers Market.
Leave a Comment
About the Writer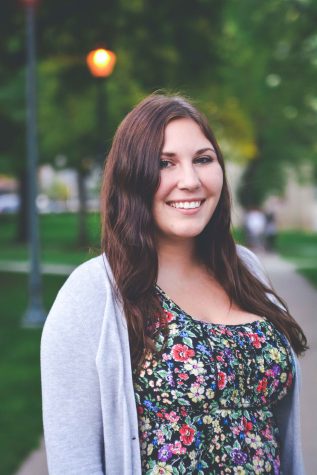 Alex Clarke, Arts & Entertainment Editor
Alex Clarke is a senior with majors in english and psychology and a minor in marketing. She also writes for Trill Mag, wrote for McClatchy newspapers for...