While you were gone…
This past week has been full of introductions for first-year students. These incoming freshmen are experiencing new people and new places for the first time; however, there is one important fact no one has bothered to tell them: they are not the only ones going through orientation.
Significant, transformative change has impacted Case Western Reserve University. And, I'm not referring to the kind of change that happens over the course of years and decades. I'm referring to the kind of change that strikes so quickly at an organization's core that it makes veteran students, staff and faculty reach for Google Maps just to find their bearings.
In the three months since many returning students last walked the pathways of the Main Quad, the institution lost two vice presidents: Vice President for Information Technology Services and Chief Information Officer Lev Gonick and Vice President for Student Affairs Glenn Nicholls. Provost William A. "Bud" Baeslack III has appointed Associate Vice President Mark Henderson as the interim replacement for Gonick, while a rigorous vetting process yielded Lou Stark as the next vice president for student affairs.
For the time-being, these campus leaders will address issues and spearhead policies that directly affect how students live, learn, work and conduct research at Case Western Reserve.
The changes that occurred this past summer not only pertain to the university's leadership but to the campus' facilities, as well. On June 2, President Barbara R. Snyder released an open letter to the Case Western Reserve community that announced a bold collaboration between the university and the Cleveland Clinic, which would result in the construction of a state-of-the-art medical education building.
Degree-seeking students on the university's original medical school track and its Cleveland Clinic Lerner College of Medicine track will be housed in the 165,000-square foot building. The structure will cost $80 million and occupy the 11-acre parcel between Euclid and Chester Avenues and 93rd and 100th Streets.
The move represents a startling turn of events for medical collaboration at Case Western Reserve, which considers University Hospitals (UH) to be its primary affiliate and—until now—has failed over the course of 15 years to establish a solidified collaborative partnership with the Clinic.
The Observer attained a copy of the digital memo sent by Thomas F. Zenty III, UH chief executive officer, and Fred C. Rothstein, president of University Hospitals Case Medical Center, to UH employees. According to the executives, Case Western Reserve administrators informed UH of the new deal with the Clinic less than one day before The Plain Dealer reported the breakthrough collaboration on the front page of its Sunday edition.
As the saying goes, breaking up is indeed hard to do. Luckily for Case Western Reserve, not all of the changes made this past summer are as controversial.
Students will return to find significant progress has been made to the Tinkham Veale University Center, which represented a shadow of its current self the last time students walked past it on their way to class.
The Case Western Reserve School of Law approved and unveiled a new curriculum to combat a national trend of declining admissions and enrollment. Under the new curriculum, faculty will assign more writing-based assignments, mandate more interaction with clients during the first semester and require students spend at least one semester during their third year in a clinical position or externship. Additionally, students will take leadership courses offered by the Weatherhead School of Management.
Information Technology Services and the Office of the Provost partnered to renovate two popular classrooms: 310 Nord Hall and 125 Mather Memorial. The classrooms now serve as modern learning spaces, featuring flexible seating options, ample table space for mobile devices, writeable walls and touchscreen LCD monitors for group collaboration. The spaces are even equipped with special software and robust network connectivity that enables collaborators to wireless share or extend their screens on a group display.
The changes that struck Case Western Reserve this summer were completely transformative, somewhat controversial and never dull. Stay with The Observer this academic year for the latest updates, in-depth features and thoughtful commentaries about the evolution of our university.
After all, change of this magnitude cannot be stopped. It can only be observed.
Welcome back.
About the Contributor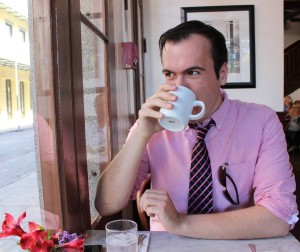 Tyler Hoffman, Executive Editor & Publisher
.
Fourth-year medical anthropology student Tyler Hoffman has served as Executive Editor and Publisher of The Observer since April 2012. As Executive...