Who is the real Slim Shady?
Eminem battles with his identity on "Revival"
Like Eminem's previous work, his ninth studio album "Revival" is colossal, with 19 tracks clocking in at over an hour and 15 minutes. He is still the same Slim Shady on some of the tracks, spitting ridiculous punch lines, telling stories that involve him as a murderer and talking about his relationship with his daughter. He also showcases tremendous skill on tracks like "Offended." But between the cracks is another Eminem, the mature 45-year-old that is political and no longer toying with pop stars, instead having them sing on his album. The two personas create a disjointed, sometimes jarring rollercoaster of an album, leaving listeners questioning who Eminem is now.
"Revival" has more tracks with features than any previous album, but not by much. Eight out of the 19 tracks on "Revival" have a feature, narrowly edging out The Slim Shady EP, which featured artists on seven out of its 20 tracks. In "Revival," Eminem collaborates with Beyoncé, Phresher, Ed Sheeran, Alicia Keys, X Ambassadors, Skylar Grey, Kehlani and Pink. This impressive but strange roster pushes Eminem's own niche of rap towards pop music, something he used to despise. Each song seems crafted to the unique skills and personality of the feature, and while that seems like good music writing, the effect is strange. Each feature just feels like an impersonal add-on to an Eminem verse, and sometimes they even feel like the vocal point of the song, which shouldn't be the case.
The most jarring part of the album for me was trying to understand where Eminem stood. He comes out, guns blazing, on the political front with tracks like "Untouchable," which focuses on racial inequality but feels like someone reading month-old news, and "Like Home," which takes aim straight at Donald Trump.
Then, not many songs later, we get "Offended" and "Heat" back to back. "Heat" instantly ruined the album for me with lyrics like: "Grab you by the (Meow!), hope it's not a problem, in fact/ About the only thing I agree on with Donald is that/ So when I put this palm on your cat/ Don't snap, it's supposed to get grabbed/ Why do you think they call it a snatch?"
Eminem has commented on this discrepancy in an interview with Vulture: "People who know my music can tell when I'm joking around and when I'm being honest about a subject." But his audience has changed since his debut in the early 2000s, so I think he has misjudged the number of people that are truly okay with him jumping between calling out racial inequality and making rape jokes on the same album.
We've been shown a grown up Eminem on confessional tracks like "Walk on Water," "River," "Bad Husband" and the very best songs on the album: "Castle" and "Arose." Especially for an artist who been through so much, confessionals are where Eminem feels his best: raw, honest, pulling no punches (even when aimed at himself). They also feel appropriate for his place in music today as a 45-year-old father.
The more playful, lighter songs like "Framed" and "Remind Me" fit into the album as reminders of his previous sounds, and perhaps even the sounds of "Heat" and "Offended" fit as reminders of Eminem's not-politically-correct past.
Together, "Revival" feels messy, like Eminem himself doesn't know where he stands, half in the past, half in the present. If he plans to continue his rap career, Eminem needs to firmly decide where he stands and who he is now, not who he used to be.
Album: "Revival"
Artist: Eminem
Release Date: Dec. 15, 2017
Rating: 2.5/5 stars.
Leave a Comment
About the Writer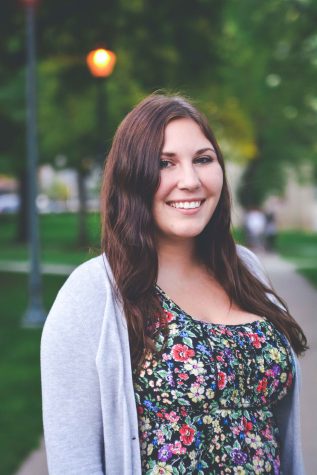 Alex Clarke, Arts & Entertainment Editor
Alex Clarke is a senior with majors in english and psychology and a minor in marketing. She also writes for Trill Mag, wrote for McClatchy newspapers for...