Women's soccer falls short in last game
Season ends with a draw as Spartans fail to clinch victory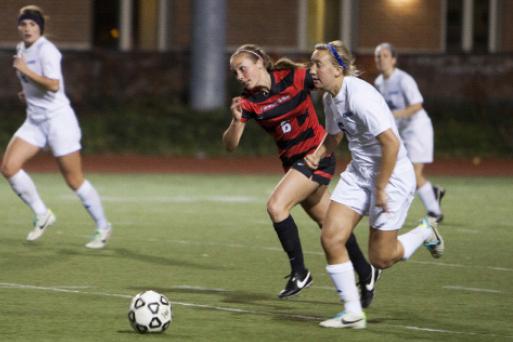 The women's soccer team fought to the final whistle like they have all season and brought it to a heartbreaking end. In the final game for three leading seniors, the Spartans drew a 1-1 tie against the University of Rochester at DiSanto Field.
Before the match the Spartans honored their three leaving seniors Rachel Bourque, Katie Chapin and Leah Levey. As a fitting goodbye to the seniors, the Spartans battled for 120 minutes until the final whistle blew after two overtimes. With the draw, the Spartans just missed reaching .500 and sit at at 8-9-2. "The grit and gutsiness of this team is outstanding. We play a really nice brand of soccer. Every game we gained more composure and have found our identity as a soccer team," head coach Tiffany Crooks said.
The Spartans started strong and pressed the Rochester defense early. In a great scoring chance, Jessie Sabers fired a shot that nailed the post just three minutes into the game. The follow-up shot by Anne Backlund sailed just high over the crossbar. Strong play by both teams led to a Rochester penalty kick after the Yellowjackets' Jessica Smith was fouled in the box in the 30th minute. This led to the Yellowjackets' only goal, when Emily Downie connected and snuck the ball past Spartan keeper, Abbey Smith.
This led to unrelenting pressure as the Spartans searched for the equalizer. Rochester fought back and the game was contained to the midfield for the next 30 minutes of play. Finally, in the 62nd minute, the Spartans' Kate Dolansky fired a long shot into the Rochester post that ricocheted off. Sabers was perfectly placed, however, as she collected the rebound and sent it into an empty goal.
With the score tied, both teams refused to give and forced the game into overtime. Crucial attempts in the first overtime by Kiley Armstrong and Sabers were turned away by the Rochester keeper and Smith played a flawless overtime between the posts turning away all of the Yellowjackets' shots.
With the season over, the Spartans are looking to next year. The departure of the seniors, the strong core, will leave the team with different challenges next season. However, there is still a lot of promise with many strong returning players. "I'm excited about the future. I always am," said Crooks. "This senior group is phenomenal and we won't look to replace them. We'll be different without them. I'm really sad to see them go, they are amazing soccer players and just amazing people. We'll be a different team next year, and we'll spend the spring sorting out our new identity."