Women's Tennis Bounces into their First Game of the Season
The Case Western Reserve women's tennis team hit off their season at the Oberlin Invitational. This tournament lasted three days, from Friday, Sept. 6 to Sunday, Sept. 8, and took place in Oberlin, Ohio. 
In the 2018-2019 season, the women's tennis team placed seventh at the University Athletic Association Championships. The Spartans also received a score of 8-11 last season. The women's tennis team will be looking to better their performance this year. 
The 2019 team consists of many returning members. The women's top player, third-year Madeleine Paolucci will be returning this year. Last year, Paolucci became the first All-American singles player in the women's tennis program after she won the first round at the NCAA Championships. She finished the season in 18th place among all NCAA singles players, and she placed fourth among singles players in the central division. 
For doubles play, the team of Paolucci and third-year Nicole Cardwell got their second All-UAA recognition with an All-UAA Second Team recognition for their first doubles (no.1) in the 2018-2019 season. The duo of Paolucci and Cardwell finished their last season ranked fifth in the central region. 
Third-year tennis player, Mira Amin received an  All-UAA honorable mention for her no. 3 singles results. Amin has a singles record of 30-19.  Also returning to the team are second-year players Eliza Georgiades, Nidhi Jha, Sneha Karnam and Shreyaa Mukund. These players will elevate the team by adding one year of experience. 
New to the team are first-years, Rupika Pendyala, Shreya Ramani, Savannah Bright and Nina Hoog. Third-year Trisha Sundaram is also new to the team. Prior to Case Western Reserve, Sundaram transferred from Emory University where she played on their tennis team. 
This year, CWRU's women's tennis team is coached by Kirsten Gambrell McMahon. This is her seventh year coaching the women's tennis team. McMahon was promoted to head coach in July of 2013. During her first year coaching the women's team, she led them to the highest ITA ranking at 22nd the program had ever been at that time. She also helped the women's team qualify a player for the NCAA Championship Tournament for the first time in the program. In the past, she played on DePaul University's NCAA Division 1 tennis team and was a standout player. She also instructed tennis at Avon Oaks Country Club, North Olmsted Recreation complex, and many others. With numerous playing and instructing experience, Coach McMahon has clearly made a distinct mark on the program. 
The women's team successfully opened the 2019-2020 season this past weekend at the Oberlin Invitational. The top-scoring player was Sundaram who boasted a score of 3-0 in singles. Following Sundaram, Mukund had a record of 3-1 in singles. Amin, Cardwell, Georgiades, Jha and Ramani got records of 2-1 in singles. In doubles, the Spartans had a combined score of 12-5. All players scored at least one win for the team. In a doubles match, Paolucci and Bright went 3-0. Also, the team of Amin and Mukund received a record of 2-0 this weekend. 
The women's tennis team will be back competing this weekend on Sept. 14 and 15. The next tournament will be hosted by Kenyon College in Gambier, Ohio for the Kenyon Invite.
About the Writer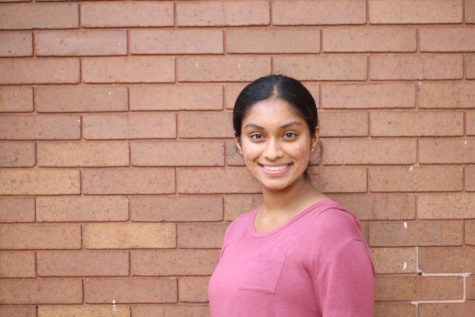 Medha Nayak, Sports Editor
Medha Nayak is a first-year student hoping to major in chemical engineering and minor in biology. She is from Minneapolis, Minnesota. In her free time,...