Women's tennis is double trouble at Regionals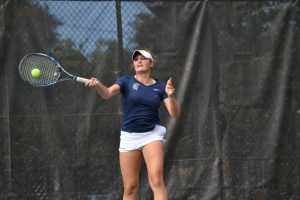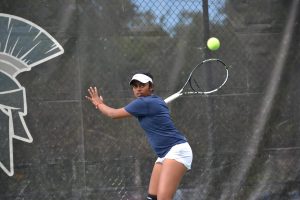 The Case Western Reserve University women's tennis team competed in the Intercollegiate Tennis Association Division III Central Regional Championships at Oberlin, Ohio from Sept. 22-24. Two CWRU players, fourth-year student Nithya Kanagasegar and first-year student Madeleine Paolucci, shined as each advanced to the quarterfinals in the singles competition and reached the semifinals of the doubles competition as the Spartans' top pair.
The duo was seeded fifth in the doubles draw, and defeated a pair from Saint Mary's College 8-1, and a duo from Allegheny College 8-5 with ease as they cruised through the first two rounds. In the third round, Kanagasegar and Paolucci persevered through a nailbiter against a doubles team from University Athletic Association rival Washington University in St. Louis 9-7. They then took an upset victory over the first seeded pair of Marjorie Antohi and Daryn Ellison from University of Chicago 8-5.
"Going into the Chicago game, we gained confidence from defeating Washington because they were really talented…we were more aggressive and steady [against Chicago]," said Kanagasegar.
Eventually, their tournament run came to an end as the pair fell to Kenyon College's Diana Aboubakare and Erika Oku in a heated match of 9-7 in the semifinals.
In singles play, the Spartans as a team performed well across the board.
The second seeded Kanagasegar collected wins over a student from Ohio Northern University, 6-0, 6-2, a student from North Park University without dropping a point and ninth-seeded Oku 2-6, 7-6 (5), 6-2 to reach the quarterfinals. She eventually fell to Antohi in the following match.
"The singles game was immediately right after Kenyon…maybe I was thinking too much about it," said Kanagasegar. "It was [Antohi's] good day too."
Paolucci, seeded ninth, started with wins over students from Kenyon (7-5, 6-0),  Augustana College (6-1, 6-0) and Washington University's Libby Jubas (0-6, 6-3, 6-4). She eventually fell to Grace Deering of Washington University 0-6, 1-6 in the quarterfinals.
Fourth-year student Nina Cepeda added a 6-1, 6-3 win over Chicago's Adrienne Travis, and fourth-year student Peyton Young defeated Kalamazoo College's Laura Hanselman 3-6, 6-1, 6-2. First-year student Mira Amin earned a 6-3, 6-0 victory over Joy Li from the College of Wooster, and first-year student Nicole Cardwell finalized the Spartans' singles victories over DePauw University's Ali Bush with score of 2-6, 6-3, 6-1.
The second duo in the doubles competition, Young and Cardwell, reached the quarterfinals, swiftly taking down Oberlin 8-4, Kenyon College 8-2 and DePauw 8-3. They fell to Washington University's Deering and Ally Persky 8-5 in the round of sixteen.
"ITA was a good test on our mental and physical toughness…we don't usually play that many games," commented Kanagasegar. "I was also playing with a new partner, and as the tournament [progressed] we became better."
The Spartans look to continue their spectacular performance in the fall on Friday, Oct. 20 as they travel to Middlebury, Vermont, to play at the Middlebury Invitational.
About the Contributor
David Chang, Staff Reporter
David Chang is a second-year nutritional biochemistry major. In his spare time, he enjoys listening to sad Chinese ballads while wearing pink Crocs.