Women's tennis stifles Oberlin with 9-0 victory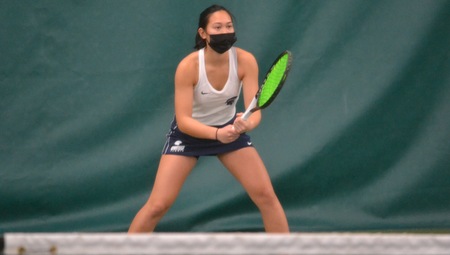 Spring has set in. The sun is shining bright—more often than not—and people are enjoying the favorable weather. 
The Case Western Reserve University women's tennis team appears to be reflecting the weather's positivity through their play thus far. On Saturday, April 10, the Spartans defeated Oberlin College's Yeowomen 9-0 at Hunsinger Courts in Oberlin, Ohio, pushing their win streak to three. 
Right off the bat, the team put up a score of 3-0. Fourth-year Mira Amin and third-year Sneha Karnam won by default over Oberlin in third doubles. In the singles competition, third-year Eliza Georgiades and first-year Caitlyn Hsu also earned wins in their respective singles matches by default.
In the first doubles match, fourth-year Nicole Cardwell and first-year Pallavi Goculdas bested Oberlin's Francesca Kern and Maja Shaw Todorovic 8-0. Rounding out the doubles competition, second-year Nina Hoog and first-year Katherine Wang won in second doubles against Hannah Keidan and Amelia Bronfman with a score of 8-2. These two wins catapulted the Spartans to a 5-0 overall score, effectively securing their win for the day.
Fourth-year Madeleine Paolucci kicked off the singles matches with an 8-1 win over Kern. Goculdas also dominated her matchup in second singles, defeating Todorovic with a score of 8-0. First-year Chloe Ku grabbed a win in third singles, besting Hannah Keiden 8-1. Nidhi Jha, a third-year, finished off the match against Oberlin, pulling an 8-3 victory over Bronfman. 
"I think that overall, we started off strong and ended strong. From everyone, I feel like we played really solid throughout the whole match and we kept up the energy and followed through with every match," said Ku of the Spartans' performance on Saturday.
When asked about what the team intends to work on moving into the latter part of the season, Ku pointed to the doubles matches.
"Doubles is just so important because we start off [the match] with doubles, and if we can get those first three wins, we're already up 3-0 [overall]. It's just really important for us to try to figure out what pairings work best and [work] on different doubles strategies."
As a first-year with the women's tennis team, Ku touched on the transition from high school to Division III competition, saying that: "It has definitely been such a big transition. Even with [the COVID-19 pandemic], I could still see the difference. In high school, you don't always get those competitive matches. When I came here, the first thing I noticed was that at practice, everyone had much higher energy. We were all at a competitive level … You've got to be on your A-game and bring everything you've got to practices and matches."
The Spartans have two matches coming up to complete the season. The next match will be against The College of Wooster on Saturday, April 24 at 1 p.m. The team will have a well-deserved two-week break to rejuvenate and continue honing their skills in preparation. 
The Sparatans will then move on to play Franciscan University of Steubenville on Tuesday, April 27 at 3 p.m. Both matches will take place at CWRU on the Carlton Courts. However, no spectators will be allowed. 
The Spartans' April 2 match against Kenyon College was postponed to a later date and is yet to be rescheduled.