Wrestlers drop both matches at conference meet
Despite the team dropping both of its matches in dual play, one Spartan wrestler was named to the all-conference team after the University Athletic Association (UAA) Championships on Feb. 12. Case Western Reserve University lost to the University of Chicago 29-12 and No. 13 New York University (NYU) 36-9. Fourth-year student Matt Moy earned the all-UAA honor in the 125-pound weight class after winning his only bout by forfeit.
After Moy's victory against Chicago, a 3-0 win by first-year student Alec Hoover gave the Spartans a nine point lead after two of the 10 bouts. A 6-2 win by first-year student Mike Petersen at 149 pounds brought the CWRU lead back to nine after first-year student Andrew Hoover dropped a tough 5-3 decision in overtime.
Head Coach Danny Song expected the team to be competitive with Chicago. However, he could not expect what happened next.
The Maroons won the next six bouts to take the match. A pin of first-year student Gavin Dersh-Fisher (197 pounds) secured the win for Chicago. Despite that, second-year heavyweight Brian McNamara fought hard in the very next bout, losing by just one point. Song used a change in momentum to explain the collapse.
"We lost momentum and then it started spinning out of control," he said. Then, our upper weights thought they needed a home run to get us back into it, started taking unnecessary risks and we got punished."
When the team faced NYU, the match was not nearly as close. The Spartans bookended eight losses with two wins. First-year student Jacob Frisch won at 125 pounds by forfeit to give the Spartans an early 6-0 lead. McNamara got the better end of a one point decision this time, defeating the Violets heavyweight 3-2. Dersh-Fisher was the other Spartan to come close to winning against the national powerhouse, dropping his bout by a 9-3 score. First-year student Isaac Collier notched five points, a team high, in a seven point loss at 149 pounds.
The team will take a week off before traveling to York, Pennsylvania for the NCAA Mideast Regional tournament on Feb. 25 and 26. With a strong finish at the meet, the Spartans hope to qualify for the national tournament on Mar. 10 and 11. A wrestler needs to finish in the top three in his weight class to qualify for nationals.
Song was optimistic. He said, "It's not an easy task, but we have a couple of guys who will be in the mix."
About the Writer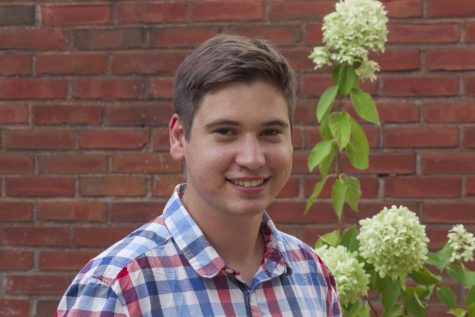 Eddie Kerekes, Executive Editor
Eddie Kerekes is in his fourth year studying chemical engineering while also pursuing a minor in German. He serves as the executive editor. Previous roles...