Breaking out the brooms
Volleyball sweeps all three matches at Marcia French Invitational
Hang on for a minute...we're trying to find some more stories you might like.
The hardwood floor of Horsburgh Gymnasium has never been cleaner.
The Case Western Reserve University volleyball team broke out the brooms during the Marcia French Invitational on Sept. 8 and 9, winning all three matches in 3-0 fashion.
On Friday, Sept. 8, the Spartans faced Eastern Mennonite University (EMU) and handled them easily, winning the first set 25-8 after an 11-0 start. EMU put up more of a fight in the second set, but the result was the same: a Spartan victory, this time 25-17.  The third set was more competitive. EMU jumped out to a surprising 9-1 lead, forcing an early timeout from Spartan Head Coach Karen Farrell. However, CWRU emerged from the time out with ferocity and tied the game up at 10. Later in the set second-year outside hitter Karley King had a clutch kill to take a 24-23 lead, and the Spartans won on the next point.
It was a balanced attack for the Spartans playing in their first home game. King and first-year outside hitter Anna Jaskoviak led the team with seven kills each, while second-year setter Faith Ellis contributed 23 assists.
Saturday brought two new foes in North Carolina Wesleyan College and John Carroll University (JCU). In the first of the two matches, CWRU won over North Carolina Wesleyan by a combined 30 points over the three sets. Second-year all-around player Brianna Lemon showcased her versatility by leading the team in kills (14) and digs (13). Ellis and first-year setter Jiayi Shen combined for 36 assists.
The final game of the weekend, and frankly the most exciting, pitted JCU against CWRU. Lemon got off to a hot start, connecting on multiple kills with ferocity, leaving the defense clueless every time. Second-year middle hitter Haley Sims checked into the game shortly after and followed her teammate's lead. JCU began the game screaming and hollering with enthusiasm and passion but that quickly faltered after experiencing the Spartans' dominant attack. CWRU won the set 25-12.
Watching the second set brought two words to mind: chemistry and hustle. Sims and Shen formed a connection, with Shen giving Sims perfect sets a few times early on and Sims mouthing "nice set" to her counterpart. As for the hustle, Shen and second-year libero Christine Tamura dove on the floor multiple times throughout the match (and weekend), making remarkable saves while putting their bodies at risk. The game ended 25-15 with a solid block from Sims, appropriate given her spectacular set which included a healthy mix of kills and blocks.
Lemon was a force to be reckoned with in the final set, totaling three kills in the Spartans' 6-0 run to tie the game. Her play did not cool off once she rotated to the back row. On multiple occasions she made digs that made the opposing coach shake her head in amazement. However, JCU came back from the early drought, bringing the game to 11-10 and holding the momentum. Farrell smartly called a timeout to get her team back on track.
The set entered the twenties with both teams neck-and-neck and the score at  25-24, but CWRU did not want to lose their first set of the tourney. Emma Briggs, captain and sole fourth-year player on the team, won the match with an exemplar block jumping to her right, sealing off a terrific weekend for the team.
Briggs admitted she "didn't want to go to a fourth set," so getting the final block was both a relief and a proud moment.
Lemon led the match with 19 kills, while Sims contributed 12. The defense had a strong game as well with 49 digs.
Lemon acknowledged that she feels like a "more mature player this year," but attributed her performance to her team. "I can't do anything without my team," she said without hesitation.
King was named to the All-Tournament Team for her impressive play over the weekend as well as being chosen as one of the Spartan Club Athletes of the Week. She had 23 kills over the three matches including one late in the third match against JCU that gave the team a 23-21 lead.
Going into the weekend, Farrell's goal was to play the entire roster. "We have 17 healthy players right now, and my goal was to get them all playing time, and we did that," said Farrell. She also stated that she "hoped to" sweep all three games, and that they did.
Following the Spartans' three set loss to the University of Mount Union on Wednesday, Sept. 13, the volleyball team travels to Buffalo, New York to play in the Buffalo State Bengal Challenge on Sept. 15 and 16 and return home on Sept. 20 to play Baldwin Wallace University.
About the Writer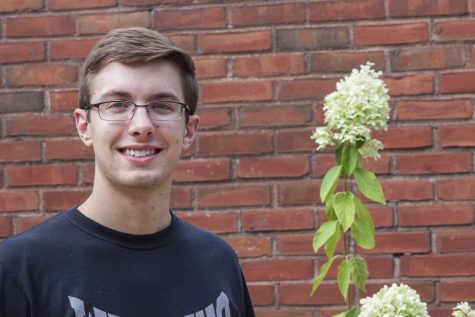 Andrew Ford, Sports Editor
Andrew is a second-year student majoring in political science and economics. As is easily inferred, he enjoys sports, politics and money. In his free time, he consistently beats his best friend at Madden and throws movie nights for his friends on what they describe as his giant TV. If he isn't doing that, then he's...