"Comedy Shorts" started the last day of CIFF
End of fest attracted huge crowds to Tower City Cinemas
Hang on for a minute...we're trying to find some more stories you might like.
The final day of the Cleveland International Film Festival began with a crowded hallway leading to Tower City Cinemas, much like every other day of the massive event. Lines of film fans hugged the walls, waiting to be released into the cinemas.
As the line for "Comedy Shorts" (the first film showing of the day) streamed into the cinema's lobby, guests were already crowded around merch tables and information booths, sipping at cups of coffee. It was 9:15 a.m., and this was probably the most popular place to be in Cleveland that morning.
A few quick announcements preceded the Shorts program, and then the series of 10 films, none longer than 17 minutes, began with the quick, snappy film titled "Opt Out."
"Opt Out" was the perfect way to start the program. At just three minutes in length, it showed a man struggling to opt out of an email list as the email began asking questions as though it was his girlfriend. ("Is it my personality?" "Is there someone else?") Right away, the theme of technology being intertwined with relationships was evident—it was a theme that continued in many of the following shorts.
This theme made up almost the entirety of "Edit>Undo," a swanky film about online dating and mystery-solving. "Edit>Undo" was stylistically daring; cuts between emoji-filled chats and imagined scenarios created multiple imagined narratives and twisted reality. But the humor seemed lost in the online dating adventure.
However a film which took a twist at its humorous best was "The Girlfriend Experience." Here was a lonely boy character missing his old girlfriend, and he calls up who he thinks is a prostitute through a website called The Girlfriend Experience. Instead shows up a sweatpants-wearing chatty woman on her period, saying that she'll be his girlfriend for the night. Every moment was relatable, from the boy's exhausted expression during her endless chattering, to her claims of "this is comfortable," when asked about her lazy outfit.
The most ridiculous films of the morning were "Twisted" (an over-the-top battle between two balloon animal makers) and "Cuddle Party" (a day gone awry at a marriage counselling party). Both short films were great, but let's just say it's good they weren't feature-length movies. Their absurdity might have become overwhelming if they were longer than 15 minutes.
The same can be said for a couple of dark comedy shorts; "Not Sophie's Choice" had the ( … interesting?) plot of parents kicking a young girl out of the house so that they could have orgies, and "The Talk" involved a father telling his child the truth about Santa Claus, and then also many awkward family secrets, including her brother being his favorite child, and him explaining that he stays at work late so he can avoid his family.
The highlight of the shorts program had to be "The Chop," though. The film follows the struggle of a Kosher butcher losing his job, then pretending to be Muslim to get a job as a halal butcher. The character had to hide his identity, and hilarious pranks ensued when his coworkers found out about his religion. Of all the films, this one seemed to have the happiest, most inclusive ending.
Also, it was the right way to end the program as a whole. "The Chop" brought some international tension to a comedic and educational format—it reminded audiences what CIFF is all about.
About the Writer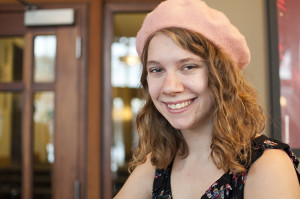 Anne Nickoloff, Director of Print
Anne Nickoloff, the Director of Print for The Observer, is a senior at Case Western. She hopes to one day be a music journalist, and has spent much of...