"Now Circa Then" uses the past to tell a modern story
Hang on for a minute...we're trying to find some more stories you might like.
On Oct. 27 and 28, Players' Theatre Group (PTG) took over the Eldred Black Box Theater to bring to life the classic story of a young girl moving to New York City, this time with a twist.
The small theater held audiences for two shows featuring third-year student Hira Qureshi as Margie, a Pakistani girl new to the city, and first-year student Rex Weinstein as Gideon, a history nerd with his dream job. The two characters work as historical reenactors who work at a tenement museum in the Lower East Side, portraying Julian and Josephine, Polish immigrants at the turn of the 19th century. Written in 2011 but now directed by third-year student Daniel Mottern, the play tells the story of the two as they find and lose themselves and each other.
PTG began rehearsals around Sept. 23 and worked on the production three days a week for five weeks, and this effort clearly paid off the weekend of the shows. The set and costumes were simple, as they are in almost all student-run campus productions. The set design took advantage of the Black Box Theater, and the way audience members were seated in the small room evoked the feeling of a tenement museum, which is where all the scenes in the play took place.
Despite the fact that it was both actors' first time playing major roles in PTG productions, they were able to take the script and create characters that were over-the-top and subdued at the perfect times.
Both Qureshi and Weinstein's characters have their highs and lows in the play. According to Qureshi, her favorite part of being Margie was "… getting to act crazy once in awhile. It's not everyday you get to throw fake fruit around or kick clothes at your fake husband." On the other hand, Gideon dramatically insists on acting out Julian dying of tuberculosis in front of the museum's guests and the audience.
But in spite of the romance that seemingly takes over the plot, the play is about more than two millennials falling in love.
The play addresses the way that race affects daily life in America, even in a city as large and diverse as New York. Audience members are clearly able to compare Margie's and Gideon's lives, and the way that race affects their situations and attitudes.
It is also about history and the way it affects our lives today.
As Mottern wrote in his director's note, "As we see these characters grow, we see how their views [on history] change as they become more acquainted with their personas, and with history as a concept, until it begins to invade every facet of their lives."
With its many layers, "Now Circa Then" brought Case Western Reserve University a new twist to a classic story.
About the Writer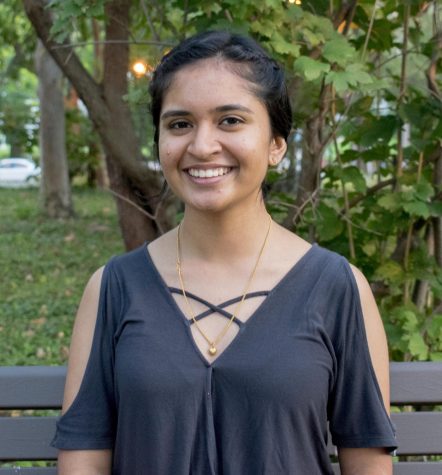 Smruthi Maganti, Arts and Entertainment Editor
Smruthi Maganti is a third-year student studying biology with a minor in public policy. After a year of copy editing, this is her first year as the A&E...